| | |
| --- | --- |
| WOMEN IN THE WORD: A WORKSHOP 2016 | |
Event Details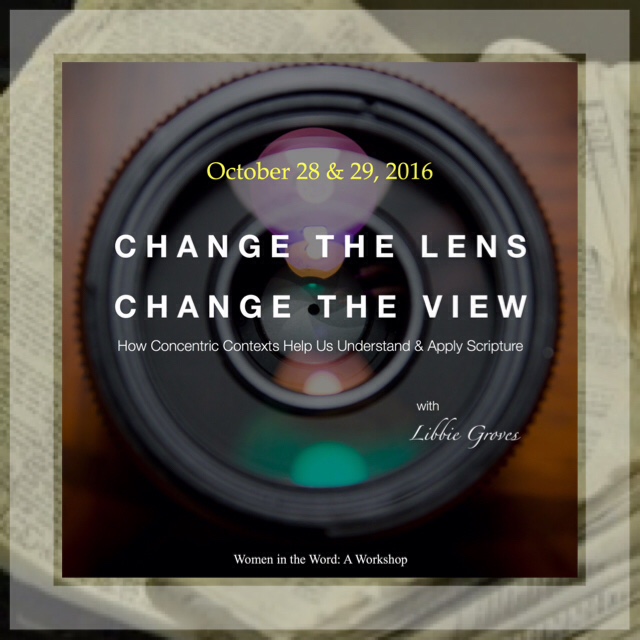 Women in the Word: A Workshop serves the church by helping women study Scripture in a way that is informed, reasoned, and reverent — strengthening both those who teach and those who study on their own.  In large group sessions and interactive study groups, this annual event focuses on women helping women interpret, apply, and present the Bible to others. We are now in our eleventh year.
 WHO SHOULD COME?  
 • Women interested in strengthening their personal Bible study skills
 • Women who are teaching the Bible
 BEFORE THE WORKSHOP YOU WILL RECEIVE:
 • Your Study Group Placement
 • Your assigned Scripture passage
 • Preparation ABC's
 • Help from your Study Group leader 
Your preparation before the Workshop is

specific

to your Study Group and is

essential

to its effectiveness.
AT THE WORKSHOP YOU CAN LOOK FORWARD TO:
  • Exploring practical tools for a "studied reading" of Scripture; Paige Britton.
  • Biblical exposition; Libbie Groves.

  • Practice interpreting and applying the Bible.
  • Encouragement from Study Group leaders.
  • Fellowship with like-minded women.
  • Browsing the CLC booktable.
GENERAL SESSIONS
LIBBIE GROVES --  CHANGE THE LENS, CHANGE THE VIEW:
 How Concentric Contexts Help Us Understand and Apply Scripture
Identifying a central idea of a Biblical text can be challenging. Paying attention to the context of a passage – and not only the immediate one – helps. It is like changing a lens to expand the view. Looking at how a passage fits within broader and broader Scriptural contexts brings fresh insight into that passage, even altering the way we apply it to our lives.  Why did Daniel eat only vegetables, and what does that have to do with me? (Daniel 1:12–16)  Does the advice about money in Proverbs 3: 9–10 apply to us today? How should I counsel a child or parent from Ephesians 6: 1–4?  Join us as we discover how answers to questions like these are informed and transformed by various levels of context.
STUDY GROUPS

Study Groups do just that: study a book of the Bible together!  A Study Group consists of 6 participants and a leader.  In guided, multi-session discussions, group members develop better skills for "rightly handling the word of truth." [2 Tim. 2:15]
 The Teacher Track
...is for those who lead or teach a Bible Study, or plan to do so.  At home, you study your assigned passage and develop a condensed, 5-minute lesson for it.  Specific steps to help you are in the Preparation ABC's.   You will then present that very short, abridged lesson to your group, after which the leader will guide a discussion of its content. .
 The Personal Study Track
...is for those who want to develop a more structured approach to digging into the Bible.  At home you study your assigned passage and complete a worksheet to summarize your exploration of it.  Specific steps to help you are in the Preparation ABC's.  You will present a 5-minute summary of that worksheet to your group, after which the leader will guide a discussion of its content.
"I was blessed by the preparation before I even got there."
          "Variety of backgrounds and experience levels offered a fantastic environment for sharpening each other."
"Ah.maze.ing.  Such a wonderful time of learning and growing."
          "Gave me encouragement to pursue teaching a Bible study."
"Love it--it's my favorite 'women's event' of  all time!"

                                                                                   — Quotes from 2015 attendees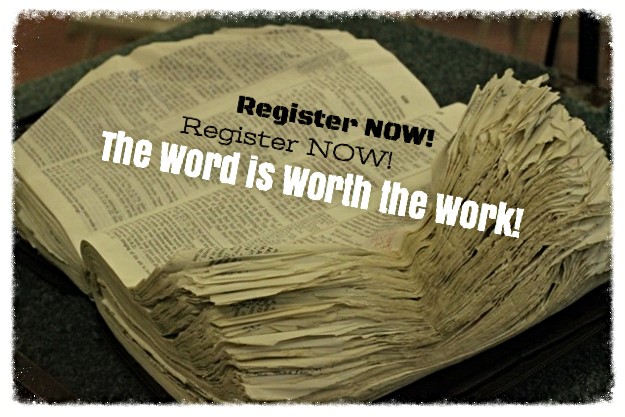 A Ministry of The World Reformed Fellowship
For more details about the Workshop, including hotel information, visit:
Where

Calvary Presbyterian Church, October 28-29
405 N. Easton Road
Willow Grove, PA 19090


Organizer
World Reformed Fellowship
WOMEN IN THE WORD: A WORKSHOP 2016