Description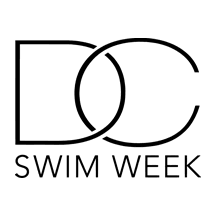 ---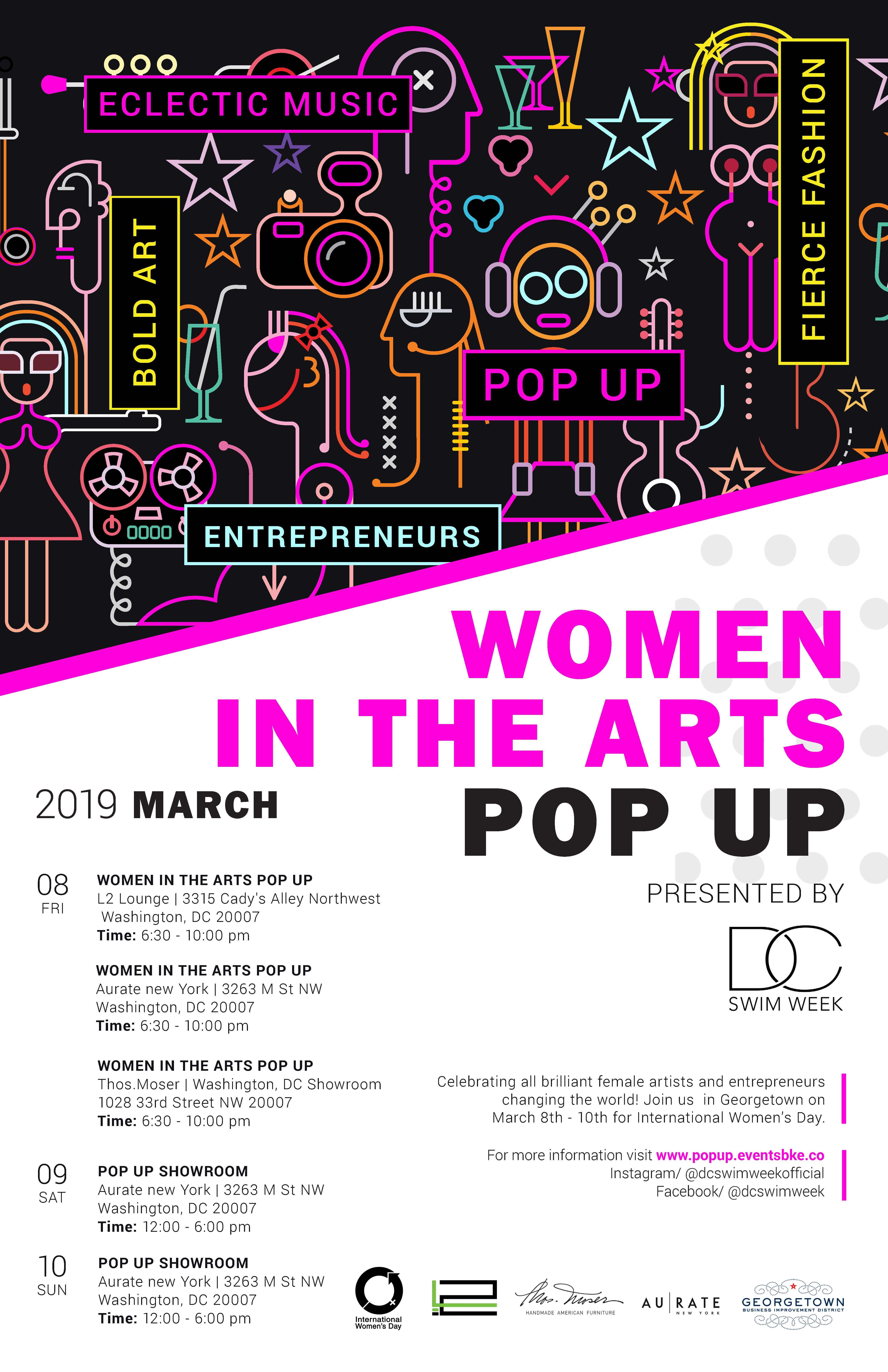 Women in the Arts pop up: Celebrate International Women's Day and Female Artists and Entrepreneurs changing the world. #beboldforchange #balanceforbetter
Four hours of art, music, shopping, cocktails at L2 lounge in Georgetown
Washington, DC — International Women's Day is a global celebration of the social, economic, cultural and political achievements of women. This day is not only a call to action for gender equality but also a celebration of women, all women! Come celebrate women and the arts in Georgetown this International Women's Day.
SHOWCASING LOCAL BUSINESSES
Visit http://popup.eventsbke.co/
SHOWCASING ARTISTS:
Atousa Raissyan is an award-winning transformational digital artist, certified Energy Healer, and a Shaman. Her colorful contemporary artworks start out as simple photographs of nature, which gets transformed by various layering, manipulating, and drawing techniques. Atousa uses her intuition, energy, and image formations as guides to create her artwork. She believes that digital art is the wave of the future, a natural progression of art on canvas. Digital world gives her more freedom to bring out her imagination into life. Her canvas is her computer screen and her brush the mouse, the colors and options endless.
Olga Bauer is a mixed-media artist, currently living and working in Chevy Chase, MD. She was born in Mongolia to Ukrainian parents and she grew up in Belarus. Olga had a great privilege to study with a teacher Doris Haskel, who inspired her a lot. Doris was heavily influenced by Richard Diebenkorn, Joan Mitchell, Willem de Kooning and other New York school painters as well as by Braque, Matisse and Cezanne.
Olga mostly creates abstract pieces and works on a large scale canvas in oil and acrylic. She also enjoys creating mixed media collages on art board. The foundation of her art is the intersection between the imagination, visual impression, observation and memory. Olga seeks to capture the essence of an experience, the mood, the emotions, and the atmosphere of the places and events that inspire her.
Lydia Samuel is a self-taught Virginia based artist who's lived in various cities across the nation and Japan. Her mediums include acrylic, water color, oils and ink. Lydia is influenced by Jean-Michel Basquiat and Simon Campbell and how they create spaces. She employs various themes in her work including aspects of healing, empowered females, abstract energy, and images from the realm of dreams.
Artist, designer, color visionary and photographer, Danon is a native of Washington D.C. She has been cognizant of her love for art since very young age. "Growing up in a busy city allowed me to be exposed to all different types of people, especially the "artsy" and fashionable types." Danon's favorite medium of art is mixed media. She enjoys combining photography, graphic design and painting in order to create her artwork. Bright bold colors are often seen in Walton's works as she has a great appreciation for color and contrast. This is evident in her display.
Emon Surakitkoson uses a variety of media, including paint and ink, to experiment with form and design. Her work is rooted in playful experimentation, but adds artistic principles, such as minimalism and color harmony, to call to mind images of natural beauty and form.
Calisma is a self-taught artist from Cameroon whose family moved to the States when she was 13 years old. Adjusting to her new environment proved to be a nightmare, as she always found herself trying to fit in. Who doesn't? After years of schooling, including obtaining her degree in Exercise and Sports Science, she has finally found where she belongs - in art. Calisma feels at home with art. The smile her art puts on people's faces and the emotions it brings out of them are what keeps her afloat. Join her in this never-ending journey. Calisma welcomes you!
Oksana S. Kluchko began her art career during a one-year intensive study under Professor and Master Artist, Yu1i Matvienko, of the Boychuk Institute of Art and Technology in Kyiv, Ukraine. With a degree/emphasis in Business Technology, Oksana is currently studying Fine Art and Business at George Mason University. Her artist en1phasis centers on classical portraiture and works of still life.
Cleautrice is a seasoned artist by profession and has been active in all things artistic since infancy. Her favorite medium is oil on canvas yet she enjoys working with 2 and 3 dimensional artworks as her creativity allows. She is currently working on several pieces for the Washington DC Arts Center and she is open for commissioned work as her schedule allows. She enjoys her own creative works yet she enjoys other's creative works as well. Her philosophy is ""One cannot enjoy a creation without first enjoying "The Creator"
After many years of living the corporate life bouncing around the globe, Naomi Christianson started to have dreaming episodes encouraged her to make a change in her life. Soon after, she moved to DC, left her job, adopted a sustainable lifestyle, became a full time artist and started a community art space, currently know as The Omi Collective. Christianson explains that her work often creates and captures universal truths, and her work emerges from the belief system influenced by dream space, life experiences and meditation fueled with the intention to better understand self through the creative space in our frontal lobe. With the intimacy of a journal and the scope of myth, her work combines intense colors, fractured patterns and images to communicate to the viewer a pursuit of positivity, the criticality of intuitive knowledge, the celebratory power and strength of the feminine form and a joyful acceptance of the journey life puts in front of us. IG omiExperience FB The Omi Experience
Click HERE to check out all the amazing artist, brands and businesses
**Must be 21plus to access the lounge**
TESTIMONIALS: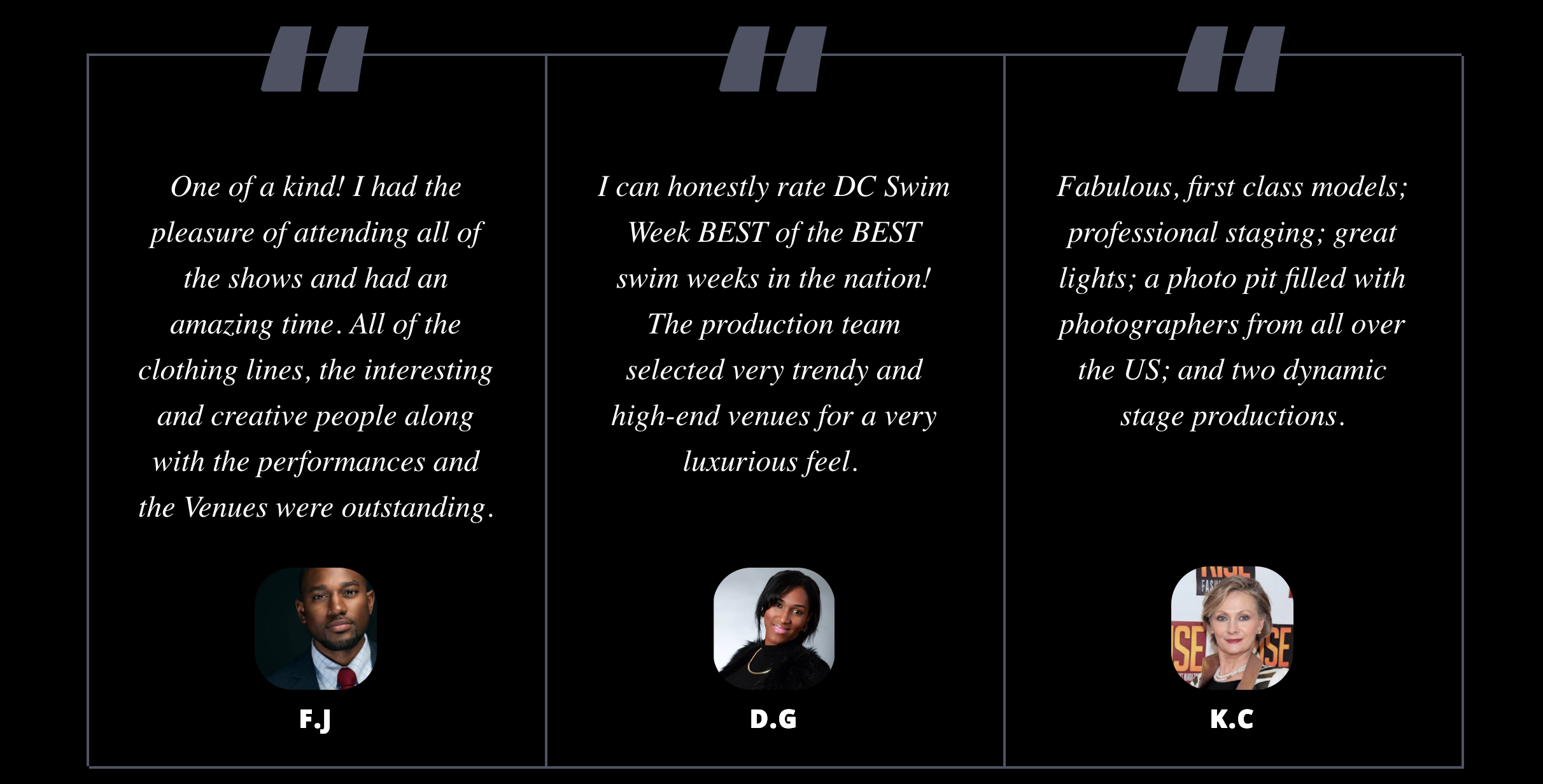 DC Swim Week Fashion Show - www.dcswimweek.com