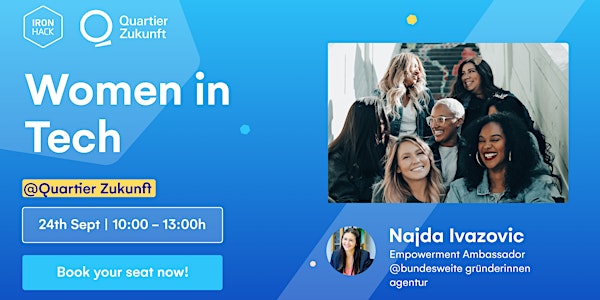 Women in Tech
Women in Tech Talk
When and where
Location
Deutsche Bank Quartier Zukunft Friedrichstraße 181 10117 Berlin Germany
About this event
// ABOUT //
Despite decades of progress towards workplace equality, women remain underrepresented in the technology workforce. The figures speak for themselves: according to Eurostat, just 17% of the people working in STEM (Science, Technology, Engineering and Mathematics) roles across Europe are female – and only 5% of leadership positions in the technology industry are held by women.
The need for skilled employees is more obvious than ever. However, the technology industry continues to restrict itself with a "boys club" image. We must add more women to the technology sector if we want them to play an integral role in the ecosystem and ultimately strengthen the industry as a whole.
// ABOUT THE SPEAKERS //
Since the mid-1990s, the WeiberWirtschaft cooperative has been operating a 7,000-square-meter start-up and entrepreneurship center here. Najda Ivazovic is the founder and a member of the cooperative's board. She originally comes from the real estate industry. "A male-dominated industry," says the 34-year-old, who started her own business in 2014 with a commercial cleaning company. She got to know the WeiberWirtschaft at a founders' evening and realized that many women had similar problems.
// USEFUL LINKS //
Najda Ivazovi LinkedIn Profile - https://www.linkedin.com/in/najda-ivazovi%C4%87-2b7101179/
Welcome to the Quartier Zukunft
Deutsche Bank opened the Quartier Zukunft in Berlin-Mitte five years ago.
At Friedrichstraße 181, customers can experience everything that awaits them in a bank branch in the future - such as the complete networking of all analogue and digital access channels to the bank.
In the Quartier Zukunft, customers and guests play the decisive role, for example the 1,500 Berlin start-up companies that are served with banking services from here, along with approximately 12,000 other private and business customers.
The greenhouse, for example, is open to the young companies: a co-working space where founders can develop new ideas and business models.