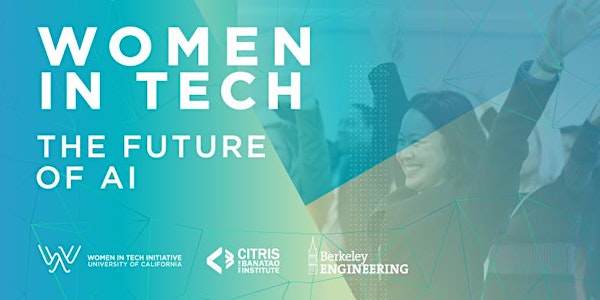 Women in Tech: The Future of AI
When and where
Location
Sibley Auditorium Bechtel Engineering Center UC Berkeley Berkeley, CA 94720
Description


Women in Tech: The Future of AI
Friday, March 8, 2019
11:00am - 5:00pm
Sibley Auditorium, Bechtel Engineering UC Berkeley
Since Ada Lovelace contributed foundational work in computation nearly 200 years ago, women have contributed to the advancement of computing and helped pave the way for today's artificial intelligence (AI). Today, women are pushing the frontiers of AI in applications from robotics to recruiting, from startups to venture capital. Equally far-reaching are women's contributions to investigate AI's social, ethical, and legal implications. For all the promise of new technology, AI can exacerbate negative effects when it reinforces biases and inequalities.
Estimates show that women comprise only 13.5 percent of those working in machine learning, one of the fastest growing technology fields. This well-recognized gender gap continues to deter talent and diminish potential for the field, which will affect innumerable aspects of our economy and everyday lives.
WITI@UC imagines a different future.
At this year's symposium, we will highlight the experiences of women in AI and explore our collective future with representatives from established companies, startups, academia, and the public sector.
The event will also feature the WITI@UC Athena Awards recognizing those who have championed the advancement of women in technology. This year's winners recently announced.
The symposium is open to everyone, encouraging a broader audience to join the conversation. Attendees will have the opportunity to share experiences, establish new connections, and collectively champion the advancement of women in technology.
Agenda
10:15am Registration at Sibley Auditorium
11:00am Welcoming Remarks

Camille Crittenden, Deputy Director, CITRIS and the Banatao Institute

Laura Longcore, VP of Data & AI, Microsoft
11:15am Keynote Fireside Chat with Ellen Ullman, Author of Life in Code, and Tsu-Jae King Liu, Dean and Roy W. Carlson Professor of Engineering, College of Engineering, UC Berkeley Introduced by Costas Spanos, Director, CITRIS and the Banatao Institue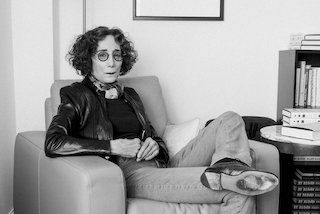 Photo credit Elena Mudd
11:45am Break and transition to Breakout Rooms
12:00pm Lunch and Breakout Sessions
Building Your Network: Mentors and Mentees
Led by Beth Broome, Senior Advisor to the Provost, UC Davis STEM Strategies


Fostering Inclusive Cultures
Led by Kara Sammet, Founder, GenderLenz & Amy Chou, Corporate Partnerships Manager, AI4All

Supporting AI and Entrepreneurship
Led by Caroline Winnett, Executive Director, UC Berkeley SkyDeck


Developing AI for Social Good
Led by Roya Pakzad, Research Associate, Stanford Global Digital Policy Incubator

Roadmapping 2050: Humans + Ethics + AI
Led by Meredith Lee, Executive Director, West Big Data Innovation Hub and Cathryn Carson Faculty Lead, Data Science Education, UC Berkeley
12:50pm Break
1:15pm Remarks by Jessica Raedler, Autodesk
1:20pm Panel I: Accountability in the Future of AI
AI is increasingly applied to areas that directly affect human life – from education and employment to criminal justice and health care. While these applications hold great promise, ill-considered applications can reinforce inequalities or have other unintended consequences. This panel explores strategies to better ensure the future of AI is inclusive, fair, and just.
Moderator: Brandie Nonnecke, Director, Policy Lab, CITRIS and the Banatao Institute
Chloe Autio, Policy Analyst, Intel

Sabine Gerdon, Fellow, World Economic Forum

Abigail Jacobs, Postdoctoral Fellow, Haas School of Business, UC Berkeley

Jamie Lee Williams, Staff Attorney, Electronic Frontier Foundation
2:00pm Panel II: Building the Future of AI
AI promises to power some of the most innovative solutions across industries and sectors. Meet some of the leading technologists laying the groundwork to build our collective future. This panel will discuss novel applications of AI and its implications more broadly.
Moderator: Betty Bonnardel-Azzarelli,

CEO and Founder; Trustee,

AB5 Consulting, Women's Engineering Society, UK

Rama Akkiraju, Distinguished Engineer & Director, IBM Watson

Victoria Coleman, CEO, Atlas AI

Karen Myers, Director, Artificial Intelligence Center, SRI International

Azalia Mirhoseini, Senior Research Scientist, Google Brain
2:45pm Keynote: Building a self-writing Wikipedia by Amy Heineike, VP of Product Engineering, Primer AI. Introduced by Vanessa Kaskiris, Manager, Research Teaching and Learning, UC Berkeley

3:15pm Break
3:30pm WITI@UC Athena Awards Presentations
4:15pm Closing Remarks
Ligia Vilela, Head of Innovation Technology, Wells Fargo
Jennifer Mangold, Program Manager, Women in Technology Initiative at UC Berkeley
4:30pm Networking Reception
5:30pm Adjourn
Additional speakers to be announced.
Presented by the Women in Technology Initiative at the University of California, CITRIS and the Banatao Institute, and the UC Berkeley College of Engineering.
Sponsors:
Wells Fargo, Microsoft, Dropbox, Google, Autodesk, Lam Research, SkyDeck, One IT, The Coleman Fung Institute for Engineering Leadership, UC Berkeley Staff Learning and Development, SEMI Foundation, The International Society of Service Innvovation Professionals (ISSIP), UC Berkeley School of Information, Micron Technology, Bakar Fellows Program, Human Rights Center UC Berkeley School of Law, Intellectual Property & Industry Research Alliances (IPIRA) at UC Berkeley, plus more to be announced.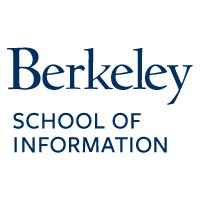 Additional sponsors to be announced. Please inquire about strategic partnership opportunities with the Women in Technology Initiative at the University of California through the contact info below.
For event questions or more information on sponsorship opportunities, please contact:
Jennifer Mangold, PhD, Program Manager, WITI@UC, jmangold@berkeley.edu
---
FAQs
What are my transportation/parking options for getting to and from the event?
Please visit http://citris-uc.org/visitor-information/ for venue info.
What is the ticket refund policy?
Due to the limited number of tickets available to our events we apply the following cancellation and refund policy:
Requests for refunds received more than fourteen (14) working days prior to the date of the event will receive a full refund
Requests for refunds received within fourteen (14) working days of the event date, a refund will not be given
Cancellation requests should be made by following Eventbrite instructions at https://www.eventbrite.com/support/articles/en_US/How_To/can-i-get-a-refund?lg=en_US
If, for any reason, CITRIS and the Banatao Institute has to cancel an event we will notify you by email if you have provided that information upon registration and will refund your ticket in full.
When do I get my refundable deposit back?
If a refundable deposit applies to your ticket, your deposit will be processed within one (1) business after the event has passed. Refunds can take up to 5 business days to show on your account. More info: https://www.eventbrite.com/support/articles/en_US/How_To/can-i-get-a-refund?lg=en_US

More questions?
Please contact witi@berkeley.edu for additional questions.