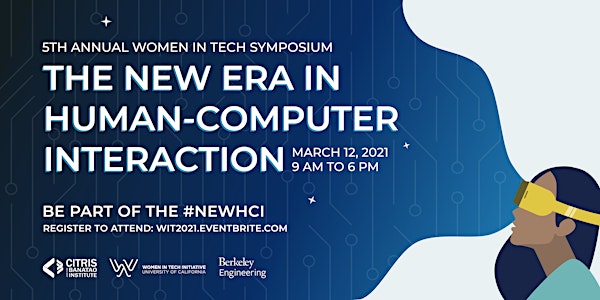 Women in Tech Symposium: The New Era in Human-Computer Interaction
Event Information
Refund policy
Refunds up to 7 days before event
Eventbrite's fee is nonrefundable.
SOLD OUT! - Women in Tech Initiative at the University of California's flagship event
About this event
Now in its fifth year, this major annual event will showcase issues, sector opportunities, and the career paths of experts in human-computer interaction (HCI).
Now entering a new era, human-computer interaction is a multidisciplinary field that combines new technology in cyber-physical systems with human-centered design and usability. This year's symposium will examine leading-edge technologies and challenges to ensuring equitable and inclusive HCI.
At the Women in Tech Symposium - The New Era in Human-Computer Interaction, join us for:
"Defining the New Era in HCI" Fireside Chat with Tsu-Jae King Liu (Berkeley Engineering) and Leila Takayama (UC Santa Cruz)
Four HCI panels on health, food, games, and justice, hosted by UC Davis, UC Merced, UC Santa Cruz, and UC Berkeley respectively
Deep-dive breakout sessions with Facebook on AR/VR, Sandia Labs on Cybersecurity, and more!
"Two Approaches" conversations with experts from Tesla and other tech leaders and researchers
"Sustainable Disruption: Ensuring an #InclusiveHCI Future Is Not Enough" Closing Talk with Melody Ivory (Thrivafy)
Career Fair connecting participants with leading tech companies seeking HCI, UI, UX talent
This year, attendees will hear from experts such as Katia Canepa Vega (UC Davis), Ankita Raturi (Purdue University), Jenna Rodriguez (CERES Imaging), Christina Harrington (DePaul University), Uma Balakrishnan (Tesla), and more!
Beyond hearing from leading human-computer interaction researchers, the symposium will feature the presentation of the 2021 Women in Tech Initiative Athena Awards, recognizing those who have championed the advancement of women in technology. It will also include networking opportunities among attendees and speakers.
We welcome participants from startups, nonprofit and government organizations, and established companies as well as university students, staff, faculty, and tech enthusiasts. The symposium is open to everyone, allowing a broad audience the chance to join the conversation about the future of human-computer interaction.
The Women in Tech Symposium will take place on Friday, March 12, 2021, virtually. Join HCI experts for a full day devoted to world-changing technologies.
Be part of women in tech and the #NewHCI
Follow the Women in Tech Initiative on Twitter: @WITatUC
Sign up to receive the latest news and updates from CITRIS: http://bit.ly/SubscribeCITRIS
If you are interested in a Press Pass, please contact communications@citris-uc.org.
2021 Sponsors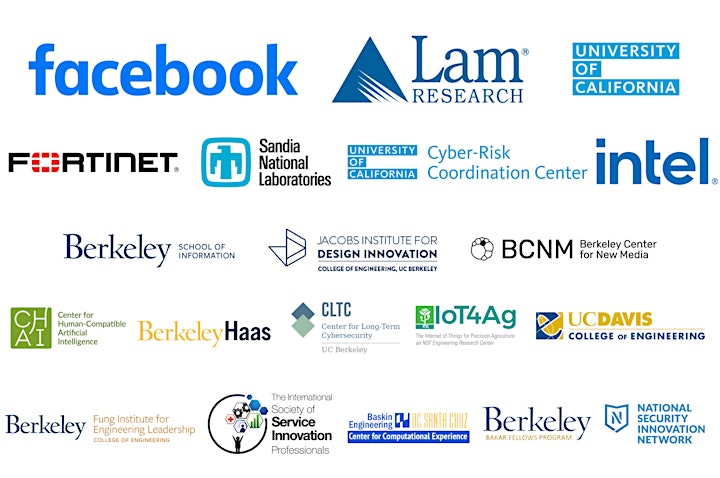 Special thanks to our 2021 sponsors: Facebook, Lam Research, University of California, Fortinet, Sandia National Laboratories, UC Cyber-Risk Coordination Center (C3), Intel, Berkeley School of Information, Jacobs Institute for Design Innovation, Berkeley Center For New Media (BCNM), Center for Human-Compatible Artificial Intelligence (CHAI), Berkeley Haas, Center for Long-Term Cybersecurity (CLTC), The Internet of Thing for Precision Agriculture (IoT4Ag), UC Davis College of Engineering, Fung Institute for Engineering Leadership, The International Society of Service Innovation Professionals (ISSIP), UC Santa Cruz Center for Computational Experience, Berkeley Bakar Fellows Program, National Security Innovation Network, and more to be announced.
Date and time
Location
Refund policy
Refunds up to 7 days before event
Eventbrite's fee is nonrefundable.