Description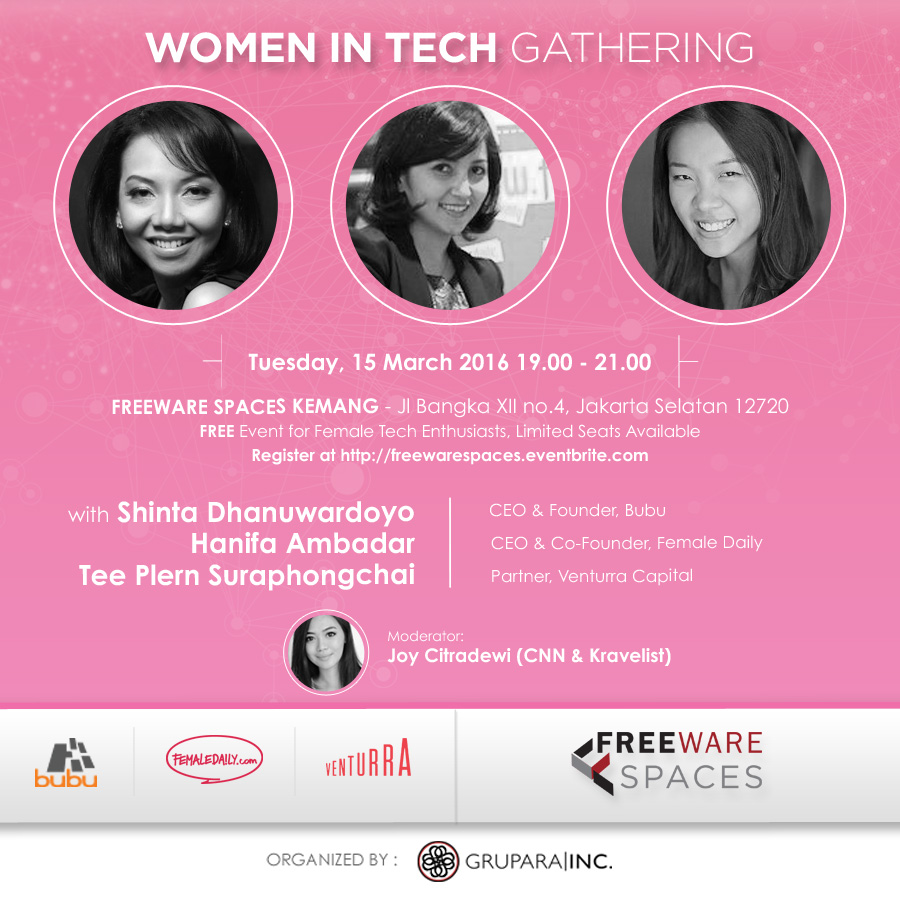 GRUPARA INC Presents:
Women in Tech Gathering at FREEWARE Coworking Spaces Kemang
*Snacks & beverage will be provided
with
- Shinta Dhanuwardoyo (Founder, Bubu.com)
- Hanifa Ambadar (CEO & Co-Founder, FemaleDaily.com)
-Tee Plern Suraphongchai (Partner & Investor, Venturra Capital)
Moderated by Joy Citradewi (CNN Indonesia & Kravelist)
*Free for Female Tech Enthusiasts,
Date / Time : Tuesday, March 15th, 2016 @ 6pm
Location: FREEWARE SPACES KEMANG
Jl. Bangka XII no 4
Jakarta Selatan 12720
CP: info@freewarespaces.com
18.00 - 18.50 : Registration & Networking
19.00 - 20.30 : Panel Discussion with the speakers
20.30 - 22.00 : Networking and end of event
TRY WORKING AT FREEWARE SPACES KEMANG FOR FREE ON THE DAY OF THE EVENT STARTING 08.00 AM EMAIL ICHA@FREEWARESPACES.COM FOR DETAILS
Shinta Dhanuwardoyo (Bubu)
Shinta has been in the Indonesia's digital industry for 17 years. She is the founder of Bubu.com (founded the company in 1996), one of the first internet companies in Indonesia which has evolved into country's leading Digital media Agency engaging with internet, social media and mobile strategies. Bubu was recently acknowledged by Red Herring as one of Asia's TOP 100 most innovative Companies. Continuing the winning from Red Herring Asia Awards, Bubu has also won the Global Red Herring Award, which was honored in Los Angeles, USA last December 2011. Bubu.com is also known for organizing a Nation wide web design/digital campaign awards called Bubu Awards (www.bubuawards.com), which invites well-known International judges and prominent judges from Indonesia. Shinta also successfully organized Indonesia's largest Digital event IDBYTE (www.id-byte.com), inviting world-class speakers from the industry's giant such as 500 Startups Facebook, Rakuten, Evernote, Amazon, Google, Linkedin, Ebay and RIM on one stage. She is also the former Managing Partner at Nusantara ventures, a pioneering technology venture capital fund in Indonesia aimed at helping entrepreneurs create and grow market-leading digital media companies throughout the region since 2011 until May 2013 and CEO of Plasa.com (own by TELKOM Indonesia), Indonesia's trusted Ecommerce portal, which boasts the exclusive partnership with Ebay.com in Indonesia and now is being co-invested by Ebay. She is now back as CEO of Bubu and does a number of angel investing on the Indonesian Tech Startups.

Shinta has received several awards and recognitions, such as "99 Most Powerful Women" by Globe Asia, Inspiring Women Honor Roll by Forbes Magazine and many others. She is now also the Head of Permanent committee for Online at The Indonesian Chambers of Commerce and Industry (KADIN) and Co- Chair for Indonesia Mobile Marketing Association.
Hanifa Ambadar (Female Daily)
Female Daily Network (FDN) helps Indonesian women look and feel beautiful. FDN is the largest online community for young Indonesian women. Its primary portal, FemaleDaily.com, provides beauty-related content to help women navigate an industry with more available products than any other retail vertical.
Founder Hanifa Ambadar links her entrepreneurial ambitions to her father. She pursued a bachelor's degree in marketing at Southern Illinois University Carbondale and an MBA in management information systems. While in the US, she was often inundated with requests about the latest American fashion trends. In 2005, deciding the most efficient way to respond would be by blogging, she started FemaleDaily.com.
The website soon attracted its first major ad client, and was named Indonesia's Best Blog for Women. Encouraged by this growth, Hanifa returned to Indonesia in 2009 and rented a small office.
FemaleDaily.com, FDN's primary site provides tips and tutorials for women to navigate countless options for makeup, skincare, treatments, and trends. The parallel portal for mothers, MommiesDaily.com, attracts FemaleDaily.com visitors as they move through new stages of life. Corporate clients can purchase standard advertising options, including banner ads and product placement. As the first website in Indonesia to target women, establish a member-led forum platform, and index customer beauty product reviews, FDN has a strong track record of anticipating and responding to market needs
Tee Plern Suraphonchai (Venturra Capital)
One of Asia's few female Venture Capitalist and investor, Tee is the Partner of one of Asia's biggest VC fund, Venturra Capital. Ms. Tee Plern Suraphongchai Used to serve as a Partner and Head of Ventures at Ardent Capital. She was responsible for sourcing potential deals, performing due diligence, and making investment recommendations. She also advised Ardent's portfolio companies on their business strategies as well as help drive subsequent funding rounds. She served as a Senior Manager of Central Retail Corporation, working in strategy, business development, and brand marketing. Ms. Suraphongchai spent several years with Central Retail Corporation – the largest retail conglomerate in SE Asia. She has also worked for a venture-funded e-commerce apparel business in the US and Co-Founded two companies in the Food & Beverage space, where she helped manage investments and set up operations. She spent three years at Lehman Brothers. Ms. Suraphongchai holds an M.B.A. from Stanford Graduate School of Business and a B.A. from Brown University.