A Gathering To Connect (Wo)Men In Tech To Mentors, Peers & Resources. Tech Belongs To Everybody.
About this event

We've had to reinvent for global health requirements, but that hasn't stopped us from gathering the best and brightest for the 4th annual Vancouver WiT Regatta. We're back with an agenda you will not want to miss, now more than ever.
JOIN US JANUARY 25-29 , 2021 FOR THE 4TH ANNUAL WOMEN IN TECH REGATTA IN VANCOUVER (CAN) — Now Virtual
The theme of our Regatta is #relationshipsarethetruecurrency. Find your crew at the Women in Tech Regatta.
We tackle the topics women in tech care about and we tackle them together.
Reinvention strategies and helping you sail thru change
What Would Chad Do? Negotiate, Navigate & Neutralize Situations
Navigating remote work
Building relationships with allies, mentors and sponsors.
Deepdive: Debiasing ML/AI
Navigating Big Tech: Learn from the Recruiters
Humans in any role and at any career level in tech are welcome. No dress (code) required.
Meet your new boss or your new best friend. Connect with local women in tech groups, with senior execs and startup founders, investors and engineers.

All sessions are scheduled for a total of 90 minutes. They start with our experts panel discussion, and continue with small breakout groups. The Regatta is designed for sharing our experiences and helping each other to move forward.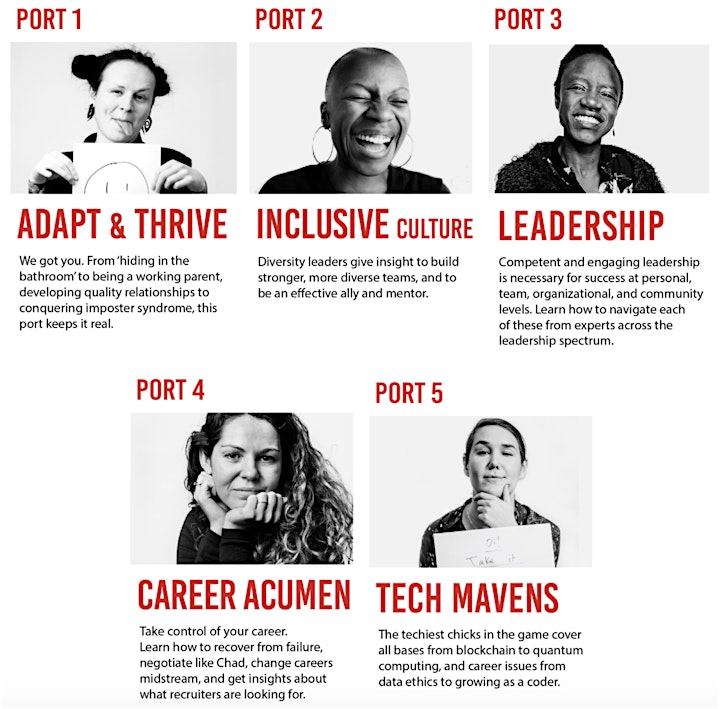 JOBS! JOBS! JOBS!
This past year has been filled with many squalls and stormy seas. Are you feeling the need to chart a new course or find a new port to do more than weather the storm? We've got you. Join our full-day job expo featuring companies that value diversity and inclusion. Find your new job, new career, or even a new friend!
Have more questions? Please see our FAQ page.

FULL ACCESS TICKET HOLDERS JOIN US FOR THE CO-STORM 01/29/21 11:30 PTD
WHAT IS A CO-STORM?
The CO-STORM™ is a think tank designed to be your personal board of directors for life and work.
The concept behind the CO-STORM is about how much we're able to see for each other that we don't see for ourselves.
Fresh eyes see our blind spots and filters. They also mirror back to us what's really going on. There's a creative back and forth energy in getting outside your own head. A CO-STORMER'S insight can clarify what steps to take next, highlight your strengths, and make you pay attention to what should happen naturally.

"We at The WiT Regatta passionately believe in the power of community and strive to build new connections in our ever-growing ecosystem. We will provide a powerful event brimming with opportunities to build your crew and buoy your spirit, no oars required. Our goal is for everyone to be seen, heard and to walk away with new ideas and relationships."
Melody Biringer, Connection Engineer | WiT Regatta Creator
Tickets are non-refundable
If you have any questions, email us at admin@witregatta.com.
By clicking "Register" I agree that WiT Regatta may use the information I provided in this form for the purpose of my registration and participation in WiT Regatta Events, in accordance with the WiT Privacy Policy.