A Gathering To Connect (Wo)Men In Tech To Mentors, Peers &amp; Resources. Tech Belongs To Everybody.<DIV CLASS="eb_sched_open"><BR></DIV> <DIV CLASS="list-person g-group"> <UL ITEMPROP="performers"> <BR CLASS="has-user-generated-content"> </UL> </DIV> <DIV CLASS="eb_sched_close"><BR></DIV>
About this event

5TH ANNUAL WOMEN IN TECH REGATTA – VIRTUAL
We tackle the topics women in tech care about and we tackle them together. Humans in any role and at any career level in tech are welcome. No dress (code) required. Have captivating conversations. Meet your new boss or your new best friend.
#relationshipsarethetruecurrency. Find your crew at the Women in Tech Regatta.

All sessions are scheduled for a total of 90 minutes. They start with our experts panel discussion, and continue with small breakout groups. The Regatta is designed for sharing our experiences and helping each other to move forward.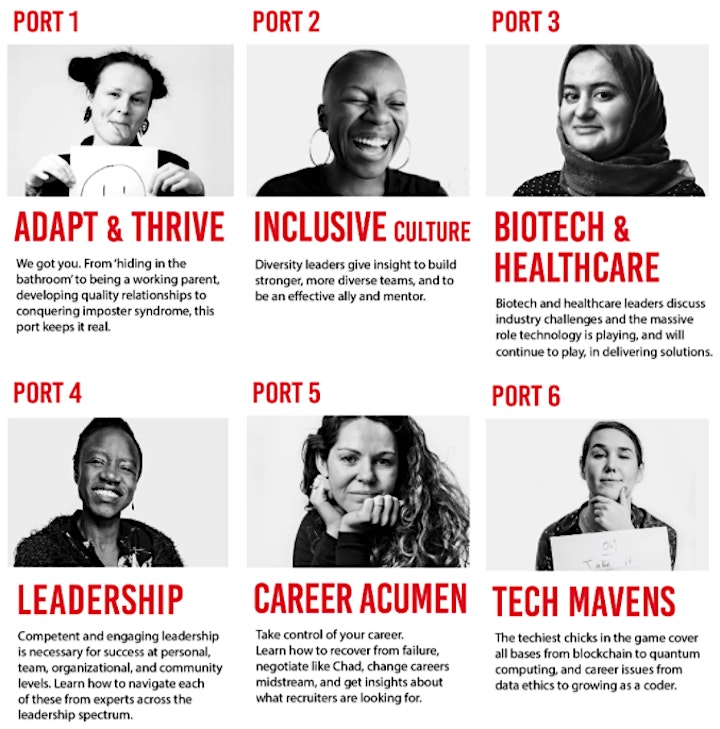 This past year has been filled with many squalls and stormy seas. Are you feeling the need to chart a new course or find a new port to do more than weather the storm? We've got you. Join our full-day job expo featuring companies that value diversity and inclusion. Find your new job, new career, or even a new friend!
Have more questions? Please see our FAQ page.

Topics Include:
Port 1 — Adapt & Thrive
Demasking the big lie that BUSY is Beautiful: A Mindfulness Approach to To-Do Lists, Personal Boundaries, and Asking For Help
Is It Just Me? Gaslighting, Trust, & Self-Awareness at Work
Relationships Are The True Currency: Now More Than Ever
Combatting Imposter Syndrome
Back from the Void: Generating Resilience in the COVID Era
Covid-19 Fallout: Women Doing Even More With Less
Port 2 — Inclusive Culture
Diversity by Design: Raising Up The Voices of Women of Color
Enough About Diversity! We Need Inclusion, Equity, & Real Change
True & Courageous Allyship: Be a Better Ally, All the Time, Every Day
Discrimination Beyond Gender & Race: Challenging Ableism At Work
Port 3 — Biotech & Healthcare
Port 4 — Leadership
Leading Through Crisis: The Opportunities and Obligations
The Rise of Women in Thought Leadership
Deep Dive on Empathy: How (and Why) to Bring More Compassion to Your Work
The Sails Are Set – Where to Next? An Interactive Workshop to Create Your Personal Vision
Navigating the (Virtual) Room Where It Happens
Courageous Leaders Needed: Standing Up For Yourself, Your Team, Your Company, and Your Community
Port 5 — Career Acumen
Navigating Big Tech - Recruiting/Resilience/Reskilling in the Era of COVID
What Would Chad Do? Negotiate, Navigate & Neutralize Situations
Skill | Delegation: The Secret To Growing You & Your Team
Skill | Remote Work: Making It Work For You And Your Team
Skill | Hiring In A Post-Pandemic World: Find The Best People No Matter Where They Live
Skill | Personal Brand: Defining Identity In A Fluid World
Port 6 — Tech Mavens
"We at The WiT Regatta passionately believe in the power of community and strive to build new connections in our ever-growing ecosystem. We will provide a powerful event brimming with opportunities to build your crew and buoy your spirit, no oars required. Our goal is for everyone to be seen, heard and to walk away with new ideas and relationships."
Melody Biringer, Connection Engineer | WiT Regatta Creator
Tickets are non-refundable
If you have any questions, email us at admin@witregatta.com.
By clicking "Register" I agree that WiT Regatta may use the information I provided in this form for the purpose of my registration and participation in WiT Regatta Events, in accordance with the WiT Privacy Policy.
Date and time
Location
Refund policy