Looks like this event has already ended.
Check out upcoming events by this organizer, or organize your very own event.
Women in Tech: Quantifying the Impact of the Arts through Big Data

Thursday, May 14, 2015 from 7:00 PM to 9:00 PM (EDT)
Event Details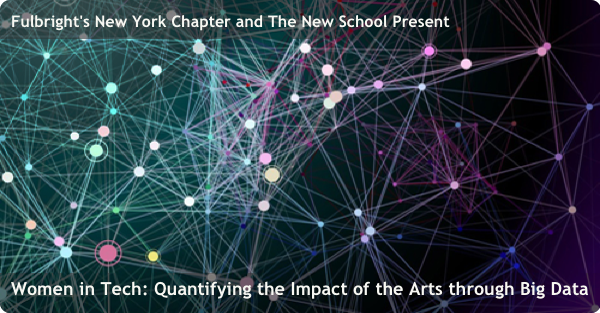 What can big data tell us about the economic & social impact of the arts?
Join the Fulbright Association's New York Chapter and The New School in a panel discussion about quantifying the impact of the arts through big data. Panelists include Debra Anderson (Designer of the Big Data Consumer Research course at The New School and Co-Founder of Culture Shock and Stereo Projects), Rebecca Davis (Fulbright NY Alumna-in-Residence and Executive Director of MindLeaps), Anjali Deshmukh (Fulbright Alumna, Director of Knowledge & Communications at Nonprofit Finance Fund & artist) and longtime curator Christiane Paul (currently Adjunct Curator of New Media Arts at the Whitney Museum and Associate Dean at The New School) - moderated by Josephine Dorado (President of Fulbright NY Chapter, State Dept TechCamp Trainer & artist). Discussion will feature current trends, NYC's own culture datasets, insights gleaned from different data artworks, as well as case studies based on collaborations with Carnegie Mellon and Drexel University researching the impact of the arts on cognitive development and learning. The event will kick off with a short meet & greet with the panelists followed by a discussion and Q&A.
Fulbright NY Panel
Women in Tech: Quantifying the Impact of the Arts through Big Data
When: Thursday, May 14th, 7-9pm
Where: The New School, Auditorium at 66 W. 12th Street (between 5th & 6th Avenues)
PANELISTS:
Debra Anderson is an innovation consultant, new media producer and entrepreneur specialized in immersive media, digital storytelling, and media impact. She conceived of, created the curriculum for, and serves as an instructor on the first Big Data Consumer Research course at The New School for Public Engagement and has developed groundbreaking prototypes for real-time interactive data visualization applications. Debra was selected as one of sixteen Media Executive Entrepreneurs for the inaugural business innovation program developed by the Mayor's Office of Media & Entertainment (MOME) in partnership with New York City's Small Business Services (SBS) and Berkley Center for Entrepreneurship & Innovation. She is currently Co-Founder at Stereo Projects, a New-York City based immersive media production studio, working at the intersection of virtual reality and data visualization where she is building data-driven and researched based approaches to immersive experiences.  She is currently in post-production on her first virtual reality documentary investigating the art, science and storytelling of creating empathy in virtual worlds and is a consulting and impact producer for pioneering immersive virtual reality experiences including The Enemy, SoundSelf and Less Than Human. Debra also founded the arts/tech innovation consultancy Culture Shock in 2007 and presented groundbreaking interactive works with The National Film Board of Canada at Sundance New Frontier (Bear 71, 2012) and Tribeca Storyscapes (Circa 1948, 2013; A Journal of Insomnia, 2014; Do Not Track, 2015), and curated special projects at Volta Art Fair Switzerland (iPad as Art, 2010) and Volta New York (PROJECTiON, 2011; BOOM!: Boomboxes, iPads and Audiovisual Interfaces, 2012; The Spectrum of Ultra Violet, 2014). She is a founding parter of Innovative Peace Lab (InPeaceLab), a partnership between The International Conflict Research Institute (INCORE) at the University of Ulster and Nerver Center in Derry, Northern Ireland and international partners, which seeks to develop technologically enabled tools and solutions for use in post-conflict peacebuilding contexts. She recently served as an Official Delegate at the 2nd Annual Media for Social Impact Summit 2015 at the United Nations, presented by the U.N. Office for Partnerships and PVBLIC Foundation, to strategize on the UN Post-2015 Sustainable Development Goals.  www.stereoprojects.comwww.cultureshockny.com
Rebecca Davis, the 2015 Fulbright Alumni-in-Resident, is the Founder and Executive Director of MindLeaps (formerly known as RDDC). MindLeaps is a not-for-profit organization that creates dance and educational programs for street children and underserved youth in post-conflict and developing programs. Rebecca has led MindLeaps to standardize a dance curriculum that teaches street children cognitive skills to a level at which they are able to enter the formal education system and succeed in school. Originally from British Columbia, Rebecca has choreographed and taught in Canada, Russia, Ukraine, Rwanda, Bosnia-Herzegovina, Guinea and the United States. She was classically trained in the Russian Vaganova method of ballet while studying in Moscow, Saint Petersburg and Krasnoyarsk, Russia and received a degree in choreography from The Saint Petersburg Conservatory under the tutelage of Nikolai Boyarchikov (former Artistic Director, The Mussorgsky Ballet). She is a two-time Fulbright scholar and summa cum laude graduate of Temple University with a Bachelors of Business Administration in Entrepreneurship. She holds a Masters of International Relations with a concentration in Peacekeeping from American Military University. In 2013, CCTV made a documentary about her work in Rwanda. Rebecca has appeared on The Melissa-Harris Perry Show, given two TEDx talks, and been a guest speaker at several universities, including Brandeis, Brown, Princeton, and University of Michigan. In 2014, she spoke at the United Nations Association Film Festival and was featured in Project M magazine, Dance Teacher Magazine, Dance Magazine, The Good Service Magazine and on Voice of America radio.  www.mindleaps.org
Anjali Deshmukh is Director of Knowledge & Communications at Nonprofit Finance Fund, a nonprofit dedicated to improving the way money is given and used to achieve social impact. She leads NFF's public research, design, and communications efforts, including reports, digital media, articles, and marketing documents. Previous to NFF, she held a variety of communications positions, including working as a writer at LaPlaca Cohen, a marketing firm specializing in services to cultural institutions, and as an Americorps Vista volunteer at the Massachusetts Housing and Shelter Alliance. She received her BA from Amherst College and MFA from the Rhode Island School of Design. She is a Fulbright Scholar in Fine Arts, most recently receiving a commissioning grant from the Queens Council on the Arts and exhibiting at the Brooklyn Museum and Dumbo Arts Festival; her work can be viewed at anjalideshmukh.com.
Josephine Dorado (moderator) is a social entrepreneur, media studies professor, and artist whose work focuses on the convergence of digital presence with 'real world' experience, arts with technology, and social good. Her work has been awarded both a Fulbright Scholarship and a MacArthur Foundation Award in Digital Media & Learning. She is currently President of Fulbright Association's NY Chapter and teaches at The New School. Josephine is also a trainer for the State Department's TechCamps, an initiative to aid civil society organizations in developing countries by building their digital capacities, and has taught workshops in mobile storytelling and games in countries such as Ukraine, Palestine and Algeria. Previously, Josephine founded Kidz Connect, a virtual cultural exchange program that connects youth internationally through creative collaboration and theatrical performance in virtual worlds. Her speaking engagements include Talks @ Google, TEDxFulbright, SXSW, IgniteNYC and SIGGRAPH. Josephine's next ventures include Some Collisions, an immersive theater and interactive performance installation that synthesizes stories of science and scars with media narratives, and reACTor, a mobile news game that encourages activism around news stories that people care about.  www.funksoup.com
Christiane Paul is Associate Dean and Associate Professor in the School of Media Studies at The New School, as well as Adjunct Curator of New Media Arts at the Whitney Museum of American Art. She has written extensively on new media arts and lectured internationally on art and technology. Her recent books are Context Providers – Conditions of Meaning in Media Arts (Intellect, 2011; Chinese edition, Beijing Beepub Media & Culture Publishing Co., 2012), co-edited with Margot Lovejoy and Victoria Vesna; New Media in the White Cube and Beyond (UC Press, 2008); and Digital Art (Thames and Hudson 2003 / 2008 / 2014). As Adjunct Curator of New Media Arts at the Whitney Museum of American Art, she curated several exhibitions—including Cory Arcangel: Pro Tools, Profiling (2007), Data Dynamics (2001) and the net art selection for the 2002 Whitney Biennial—as well as artport, the Whitney Museum's website devoted to Internet art. Other recent curatorial work includes The Public Private (Kellen Gallery, The New School, Feb. 7 - April 17, 2013), Eduardo Kac: Biotopes, Lagoglyphs and Transgenic Works (Rio de Janeiro, Brazil, 2010); Biennale Quadrilaterale 3 (Rijeka, Croatia, 2009-10); Feedforward - The Angel of History (co-curated with Steve Dietz; Laboral Center for Art and Industrial Creation, Gijon, Spain, Oct. 2009); INDAF Digital Art Festival (Incheon, Korea, Aug. 2009); and Scalable Relations (Beall Center for Art and Technology, Irvine, CA; as well as galleries at UCSD, UCLA and UCSB, 2008-09). Dr. Paul has previously taught in the MFA computer arts department at the School of Visual Arts in New York (1999-2008); the Digital+Media Department of the Rhode Island School of Design (2005-08); the San Francisco Art Institute and the Center of New Media at the University of California at Berkeley (2008).
When & Where

The New School
Auditorium at 66 W. 12th Street
New York, NY 10011


Thursday, May 14, 2015 from 7:00 PM to 9:00 PM (EDT)
Add to my calendar