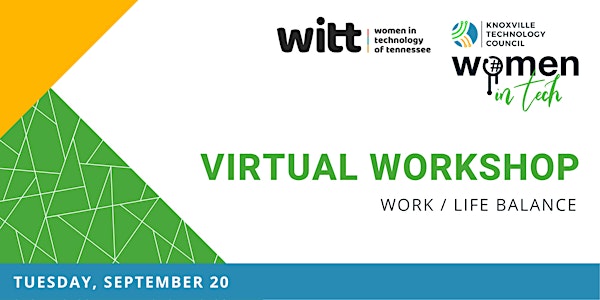 Women in Tech Leadership Series: Work/Life Balance
Join us for an interactive workshop & learn practical ways to establish a sense of balance between work and everything else!
About this event
Maintaining a healthy, sustainable work-life balance may seem like an elusive goal to achieve. Yet having a sense of balance between work and…well, everything else has major benefits for our health, productivity, and relationships!
In this workshop, we'll talk all things work-life balance: what it is, why it's important, and how to create a healthy balance that works for you.
Sarah Jo Gregory, Wellness Manager at Clayton Homes, will share from her experience developing holistic wellbeing programs for team members across the enterprise, with a focus on making wellbeing simple and fun.
This Women Leaders Panel is the third of a three-part series in partnership with Women in Technology Tennessee (WiTT). It will include an interactive discussion with the opportunity for you to ask questions and build lasting connections with other female technologists and leaders. 
The Zoom link for this virtual event will be made available to registrants several days in advance of the event.
Hosted in partnership with: