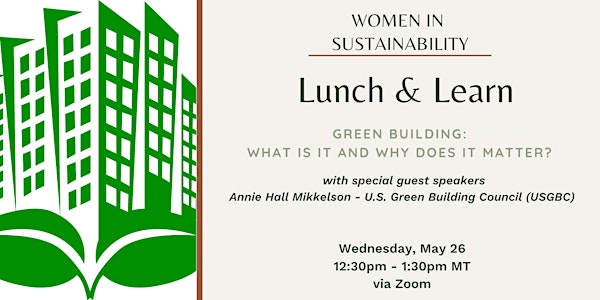 Women in Sustainability- Green Building: What is it and why does it matter?
WIS Lunch & Learn - Green Building: What is it and why does it matter? w/ Annie Hall Mikkelson from U.S. Green Building Council (USGBC)
About this event
About the Event
This webinar will not be recorded.
Did you know that the commercial building sector is responsible for almost 40% of greenhouse gas emissions worldwide? Have you heard of "sick building syndrome"? The majority of humans spend about 90% of their lives indoors, so our indoor environment has big implications on our health and wellness. The COVID-19 pandemic has brought to light the importance of indoor air quality, something USGBC has been aware of and working to improve for decades. Join us to learn about how the U.S. Green Building Council is working to make our world more sustainable, healthy, and resilient, with a focus on the need to raise the living standard of all humans.
About the Presenter
Annie is the USGBC Mountain Region's Project Manager. In her role at this national non-profit she wears many hats with a primary focus on educational program development and membership account management. She believes that the opportunity for sustainable design is abundant and important for the future health of people and the planet, and that USGBC's suite of rating systems and their community of green builders can help cities and states make huge strides toward achieving their sustainability, health, and equity goals.
About Women in Sustainability
Women in Sustainability is an inclusive nonprofit based in the U.S. that brings together women and allies who are passionate about sustainability. We provide a safe place for like-minded individuals to connect, learn, and collaborate in order to fight climate change and social injustice. Our overarching goals are to save the planet through advocacy, to create an inclusive community, and to educate others about sustainability in all industries.
Accessibility:
Closed Captions will be available for this webinar.
Recording:
This event may be recorded for use by Women in Sustainability. By participating in this webinar, you automatically agree to authorize recording of audio and visual content presented during the live event and consent to subsequent use of the recording in the public domain by the provider presenting the live webinar. The audio and visual recording of the live webinar includes documents and materials exchanged or viewed during the live event; questions asked and poll answers provided by you during the live event; the closed captioning transcript; and the chat box transcript. You can cancel your order at any time.