About this Event
Sports provide women with an amazing opportunity to learn how to navigate and overcome the persistent barriers to achieving gender equity. Join us for an engaging discussion, which will cover strategies to handle adversity and touch on topics such as leadership, confidence, and taking initiative to make positive changes in your career and beyond.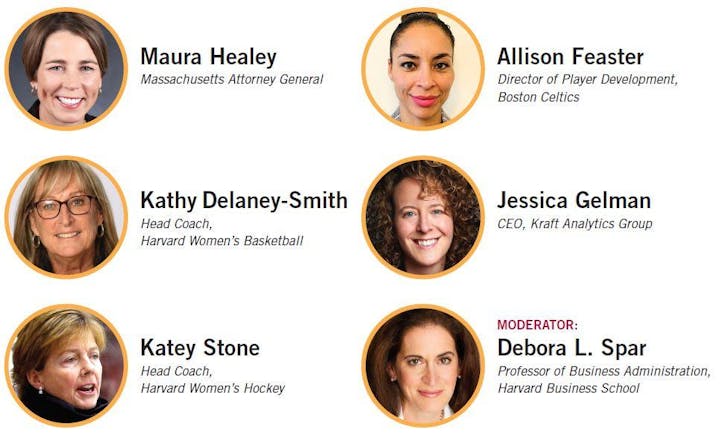 Panelist's Bio's:
Kathy Delaney-Smith, Harvard Women's Basketball Coach. The winningest head coach in Ivy League history, will enter her 38th season with Harvard basketball in 2019-20. Delaney-Smith has put Harvard basketball on the map and expanded its reach both nationally and internationally as one of the longest tenured coaches in collegiate women's basketball with the most overall wins of any coach in Ivy League men's and women's basketball history.
Katey Stone, The Landry Family Head Coach for Harvard Women's Ice Hockey since 1994, has amassed 476 (477 including last Friday's season opener) victories over the course of her storied career. One of the most successful coaches in the collegiate game, Stone has spent all 24 of her seasons behind the Crimson bench and served as Head Coach of Team USA's women's ice hockey team at the 2014 Olympics in Sochi. She's also coached the Red, White and Blue in three IIHF Women's World Championships, winning gold twice, and has led the Americans in five Four Nations Cups, taking gold three times.
Maura Healey, The Attorney General of Massachusetts, leading the People's Law Firm in the fight for fairness and equality. Healey has gained national prominence for her leadership in Massachusetts since she took office, in January 2015. Maura attended Harvard College, where she was the captain of the basketball team and played professional ball in Austria for two years before returning to the states to pursue her law degree at Northeastern University.Allison Feaster, Boston Celtic's Director of Player Development. A 19-year WNBA and international veteran, Feaster spent 10 years (1998-2008) playing professionally for the Los Angeles Sparks, Charlotte Sting and Indiana Fever, before taking her talents oversees to play professionally in Europe until 2016. During her collegiate career at Harvard, Feaster became one of the most decorated players in Ivy League basketball history. As the all-time leading scorer in Harvard women's basketball history with 2,312 points, Feaster broke and currently holds multiple records, including most points in a season and game, most career rebounds and highest career and season scoring averages. Feaster led the Crimson to its 1998 upset of No. 1 Stanford in the first round of the NCAA Tournament as the No. 16 seed, the first men's or women's team in NCAA basketball history to complete the feat.
Jessica Gelman, CEO of Kraft Analytics Group (KAGR), focuses on advanced analytics and strategic consulting in the sports and entertainment space. She originally joined the Kraft Family in 2002 working for the sports properties (New England Patriots, Gillette Stadium and New England Revolution). Gelman earned an MBA from Harvard Business School and a BA, cum laude from Harvard College. While at Harvard, she was selected as Harvard Female Athlete of the Year and in 2018 was honored as an Ivy League Legend of Basketball.
Brought to you by HBS Connects and The Harvard Business School , W omens Student Association
This event is free and open to the Harvard community. Partners and friends of Harvard/Allston are welcome. Registration is required.
Parking is complimentary at the Harvard Business School Surface Lot, located off of Batten way, near Spangler Center, map and directions below.
https://www.hbs.edu/maps/
Accessibility:
Harvard University encourages persons with disabilities to participate in its programs and activities. If you anticipate needing any type of accommodation or have any questions about the physical access provided, please let us know by contacting: connects@hbs.edu