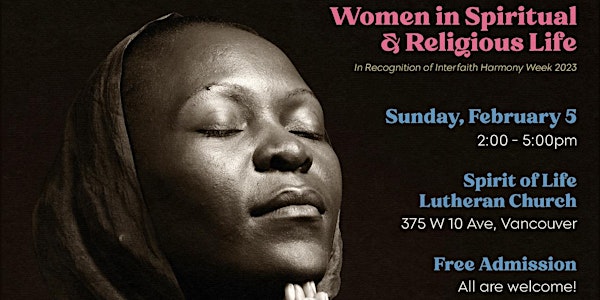 Women in Spiritual and Religious Life: Interfaith Perspectives
An interfaith dialogue forum focusing on women in spiritual and religious life, in recognition of World Interfaith Harmony Week 2023
When and where
Location
Spirit Of Life Lutheran Church 375 West 10th Avenue Vancouver, BC V5Y 3V1 Canada
About this event
In recognition of World Interfaith Harmony Week 2023, the Multifaith Action Society of BC and Global Clergy Association have partnered to bring you an interfaith dialogue forum focusing on Women in Spiritual and Religious Life. Admission is free and all are welcome!
Featuring keynotes from:
Rev. Aneeta Devi Saroop has been serving Spirit of Life as pastor since December 1, 2020. She earned an MDiv at the Lutheran Theological Seminary in Saskatoon Sk and studied English Literature and Sociology at the University of Victoria. She considers herself "Born Hindu, Baptized Chrisian and Lutheran by choice". She welcomes any and all conversations about faith and even questions that aren't about faith. She serves on the board of the Multifaith Action Society of B.C, The Evangelical Lutheran Church in Canada's Task Force for Adressing Rascim, White Suprmacy and Issues of Racial Injustice and is a Co-Keynote speaker for the Canadian Lutheran Anglican Youth Gathering in Waterloo Ontario next summer 2023.
Rabbi Dr. Laura Duhan-Kaplan holds a B.A. in Philosophy from Brandeis University, Ph.D. in Philosophy and Education from Claremont Graduate University, Rabbinic Ordination from ALEPH: Alliance for Jewish Renewal, and Graduate Diploma in Spiritual Direction from the Vancouver School of Theology.
She is Rabbi Emerita of Or Shalom Synagogue in Vancouver and Professor Emerita of Philosophy at UNC Charlotte.
Rabbi Laura received many teaching awards, including the American Academy of Religion's Katie Geneva Cannon Award for Excellence in Teaching, American Association of Philosophy Teachers Award, Carnegie Foundation's U.S. Professor of the Year, UNC Board of Governor's Award for Teaching Excellence, and Bank of America Award for Teaching Excellence. (Click here to continue reading)
Cathy Merchant is an ordained Interfaith minister. She holds an MDiv from the Vancouver School of Theology and an MA in Middle East Studies from the University of Washington. She loves connecting with people from different faith traditions and leads her own Interfaith congregation here in Vancouver, called the Living Interfaith Sanctuary. Before moving to Canada, Cathy specialized in conflict resolution pertaining to the Israel / Palestine conflict. She worked for the Compassionate Listening Project, the American Friends of the Parents Circle Families Forum, and the Council on American-Islamic Relations, all in the Seattle-area.
When she's not working, Cathy and her husband, Sameer, live in the Sunset area with their young children, Inara and Ammar.
Lali Pawa has been working within the non-profit sector for over 20 years and has worked extensively in social services, specializing in providing information and support to marginalized members of the community. Presently she is the Program Manager at the Justice Education Society. Lali is very passionate in helping others and is a strong advocate for women and children. Lali has coordinated and assisted many projects such as Youth and Gangs, Preventing Violence Against Women, Teachers Law Institutes, Workshops on Criminal, Civil and Family Law.
...and featuring music from Lorraine Reinhardt, Vancouver Chamber Choir
Reception and light refreshments to follow after the event.