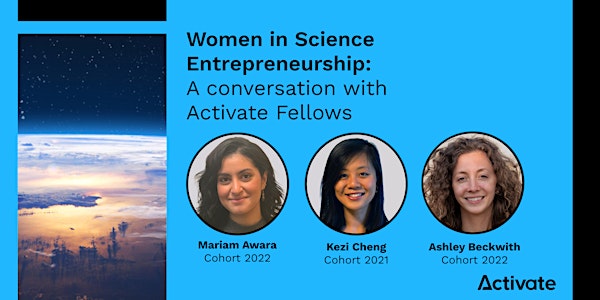 Women in Science Entrepreneurship: A Conversation with Activate Fellows
This panel with Activate Fellows will amplify the often muted voices of women in science entrepreneurship.
About this event
We know that women face many challenges when it comes to succeeding in STEM and as entrepreneurs, and Activate is determined to turn many of those challenges into opportunities. This conversation with three Activate Fellows and alumni who are women will focus on how they have confronted challenges personally, how Activate has supported their journey as women founders, and how programs like Activate can continue to improve and promote inclusivity.
Panelists:
Mariam Awara, Pulsenics, Cohort 2022, Activate Anywhere Community
Mariam Awara is co-founder and chief operating officer at Pulsenics. She trained as an electrical and computer engineer at the University of Calgary, where she researched power and energy systems and wireless telecommunication systems. Today she is on a mission to enable the adoption of clean energy processes at scale.
Kezi Cheng, FLO Materials, Cohort 2021, Activate Berkeley Community
Kezi Cheng is co-founder and COO of FLO Materials. Previously, she earned a Ph.D. from Harvard's school of engineering and applied sciences. She was an NSF graduate research fellow, a Harvard Graduate Energy and Environment Consortium fellow, and was on the organizing team for the inaugural Harvard Circular Economy Symposium. Cheng holds a bachelor's degree in materials science and engineering with a minor in management from MIT.
Ashley Beckwith, FORAY bioscience, Cohort 2022, Activate New York Community
Ashley Beckwith is the founder and CEO of FORAY bioscience, where she is reimagining the production of tree-sourced goods and materials. Beckwith holds a Ph.D. and master's degree in mechanical engineering from MIT. Her research and industry experience spans bioengineering, biomaterials, product design, and advanced manufacturing. Most recently, Beckwith has developed new methods for the net-shape production of customizable plant materials in vitro.
To learn more about the fellowship and this year's application process, visit activate.org/apply.