Women In-Novation (an International Women's Day event)

Sunday, March 8, 2015 from 12:30 PM to 5:00 PM (EDT)
Event Details
Overview
Join us at Newark's premier co-working space, =SPACE, for a full-day event where you will engage in collaborative sessions and hear from prominent speakers from NYC, NJ & Chicago who will provide their unique insight into business, politics, tech and innovation. 
Discover the role of ingenuity and work culture in innovation, how to create a shared ecosystem no matter where you work, best methods for growing your startup, the business behind innovation and best practices for navigating corporate and startup ecosystems in the digital age.
Keynote Speakers
Sarah Caldicott - Founder, PowerPatterns; Great grandniece of Inventor Thomas Edison
Author of Innovate Like Edison and Midnight Lunch, two books translating Edison's world-changing innovation practices for the digital age.
Sarah Miller Caldicott is an innovation thought leader and CEO of her own innovation Chicago-based consultancy, The Power Patterns of Innovation. Sarah's work has appeared in New York Times, Fast Company, USA Today, and Fortune as well as on CNBC and PBS. She is a regular blogger on innovation for Forbes.
Tara Dowdell - Founder, Tara Dowdell Group
Tara is a highly accomplished business and political strategist. She appears regularly on MSNBC and AL Jazeera America where she provides progressive insight and analysis on a range of political, government, and business topics. She can also be seen on Fox 5 Good Day New York and Fox 5 News at 6:00 p.m. Tara Dowdell Group has cultivated an impressive list of clients in healthcare, education, transportation infrastructure, real estate development and government. Tara is a respected television commentator and speaker.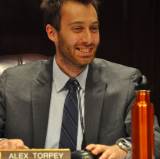 Alex Torpey - Mayor, South Orange 
Alex was elected as Mayor of South Orange at 23-years-old. At the time of being sworn in (May 16, 2011), he was the youngest Village President in South Orange's history, and the youngest serving mayor in the state of New Jersey. He believes in doing government differently. He believes in a government that excites, innovates and inspires. He will join us for a quick talk and also discuss some challenges facing his town and call upon attendees to help solve these problems.
Agenda
12:30– 1:00   Registration, Networking & "Office Hours"
1:00 – 1:15    Opening remarks by Women Techmakers, Propel Media Group and =SPACE
1:15 – 1:45   Sarah Caldicott "The Role of Ingenuity and Work Culture in Innovation: Creating a Shared Ecosystem"
1:45 – 2:00    Interactive discussions
2:00 – 2:20    Tara Dowdell - "Growing Your Startup: The Business of Innovation & Entrepreneurship"
2:20 – 2:45    Hors d'oeuvres served
2:45 – 3:15    Collaborative workshop: Navigating corporate & start-up ecosystems in the digital age
3:15 – 3:45    Workshop group feedback 
3:45 – 4:30    Panel Discussion: My Journey, My Learnings - featuring Sarah Caldicott, Tara Dowdell, Tai Cooper & Talia Young
4:30 – 4:45     Closing remarks
4:45 - 5:00      Networking
5:00+             After party at Hotel Indigo
Admission guarantees access to all activities including interactive workshops, food and refreshments, and 'office hours' where attendees interact with sponsors and local government representatives.
The Twitter contest is on! Win a prize by tweeting about #iwdnj and we'll pick the most active tweet-ist (You must have your admission ticket to be considered)
This event is brought to you by a joint collaboration between Women Techmakers North Jersey, Propel Media Group, =SPACE and Google Developer Group: GDG North Jersey. Additional info at our dedicated site: http://iwd.gdgnorthjersey.com/womeninnovation
Thanks to our Supporters! 
Additional Panelists
Medina
CITI=Medina, =SPACE
Creative Director
Tai Cooper
City of Newark
Chief Policy Advisor
Talia Young
City National Bank
Assistant Vice President of Public and Government Relations
When & Where

=SPACE
89 Market Street, 4th Floor
Newark , New Jersey 07102


Sunday, March 8, 2015 from 12:30 PM to 5:00 PM (EDT)
Add to my calendar