Description
A Discussion with Dotty Hayes, Lili Balfour, and Azita Rashed on Power, Gender, Sexual Identities, Legitimacy and Professional Success in Light of the Recent "Me Too" Media Events.

This is a session specifically tailored for Women Who Code. We invited the leaders, mentors and investors to share what it takes to be a leader.

WHY ATTEND?
You are looking for next step in your professional career, you are thinking to start your own business, you are thinking of working for government to switch to work in academia. If this resonates with you ... YOU NEED TO FIND TIME TO COME and participate in this panel.
We need your questions, we need your input and active participation.
PANELISTS:
Dotty (Damon) Hayes
Board Director, Audit Committee Financial Expert - Encore.org and more

Dotty Hayes is a high tech financial executive focusing on board work, with an emphasis on audit, risk and finance. Key career roles included Chief Audit Executive for Hewlett-Packard and Intuit; Corporate Controller for Apollo Computer, Agilent Technologies, and Intuit; Financial Executive for Hewlett-Packard's $5 billion revenue Measurement Systems Organization, and General Manager for HP's spin-off of Agilent Technologies. In her corporate roles, she was a key participant in Audit Committee meetings of the board, and was highly regarded for her leadership in transforming business processes.

She chairs the board of First Tech Federal Credit Union ($11 billion in assets), and serves on the boards of the Computer History Museum, American Leadership Forum – Silicon Valley, the Center for Excellence in Nonprofits, and Encore.org.
Ms. Hayes holds an MS in Business Administration with Accounting concentration from the University of Massachusetts at Amherst and an MS in Finance from Bentley University. She was named to AGENDA Magazine's Diversity 100 – Top Diverse Board Candidates. She maintains homes in Silicon Valley, New York City and northern Connecticut.
Azita Rashed
Director of Engineering at Mozilla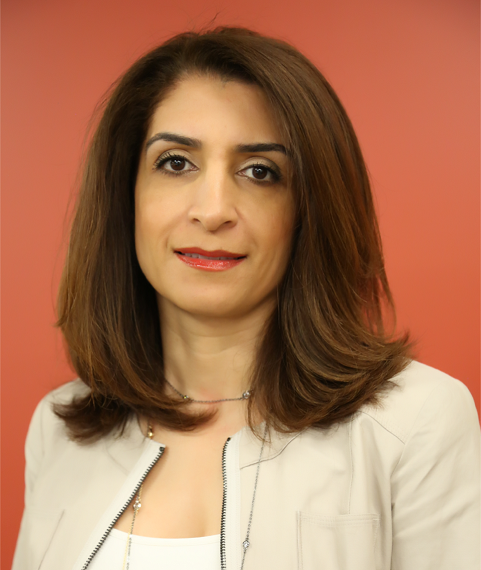 Azita Rashed has been a technology leader for over 20 years. She has worked for companies that design chips and hardware products, and for companies that focus in advance web technologies and platforms. She has held various leadership roles at large companies like 3Com, Texas Instruments and Intel, building teams and solutions that helped these companies take their innovative ideas from inception to production. She is currently Director of Research Engineering at Mozilla where she's responsible for all aspects of technology life cycle, working on the next generation technology platform and products in VR/AR, Speech and Machine Learning, and Web Platforms. She is leading distributed engineering teams across the globe with vibrant developer open source communities. Azita is passionate about mentoring young engineers and helping them become the next leaders. She holds a Bachelors and Masters in Electrical Engineering from Santa Clara University, and enjoys traveling with her husband and two children.
Lili Balfour
Founder of Atelier Advisors + Creator and Host of Finance for Entrepreneurs

Lili Balfour is the Founder of Atelier Advisors and creator and host of Finance for Entrepreneurs. Lili Advised over 100 startups to raise over $200 million. On-air expert, speaker, and blogger in the area of entrepreneurial finance. Lecturer at UC Berkeley. Featured in The Wall Street Journal, Forbes, Entrepreneur, Fox Business News, and HuffPost Live. Speaking engagements include San Francisco Hacker News - How to Prepare for a Seed Round, MIT Enterprise Forum - Rebuilding Wall St. in a Down Market, American Express CEO Bootcamp - Entrepreneurial Finance Expert, and Hacker Dojo - Hack Finance for Your Startup, among others.
This panel will be moderated by Dr. Suzanne Wertheim, a linguistic anthropologist and Founder/CEO of Worthwhile Research and Consulting. Dr. Wertheim is an expert in ways bias is expressed through language and has written for Fast Company about unconscious demotions and bias in evaluations. Her article can be found here: (https://www.fastcompany.com/3060336/the-common-habit-that-undermines-organizations-diversity-efforts)
Dr. Suzanne Wertheim

AGENDA:
6:30 p.m - 7:15 p.m. - Food, Drinks, Networking

7:15 p.m. - 8:30 p.m - Panel Discussion
8:30 - 9:30 p.m. Q&A and informal networking