Description
JOIN US for the next Women in Homeland Security Chapter

luncheon!
Reserve your place now for an event that promises to be engaging, informative, and a wonderful networking event for women in our industry.
The program is free. The ticket covers the cost of the meal provided at lunch.
Reservations are required for the event, and space is limited!
Details
Date: Thursday, February 16, 2017
Time: 12:00 PM to 2:00 PM
Location: Charles S. Farnsworth Park, The William D. Davies Memorial Building, 568 Mount Curve Ave E, Altadena, CA 91001
Speakers
Binnie Phan, Special Agent, FBI and Claire Balanay, Victim Specialist, FBI will discuss best practices and lessons learned from the San Bernardino Inland Regional Center and Orlando Pulse nightclub incidents
Brought to you by…
This would not have been possible without sponsorship from:
Los Angeles County Office of Emergency Management
This event has been inspired and organized by these amazing women:
Jeanne O'Donnell, Los Angeles County Office of Emergency Management

Gabriela Noriega, Homeland Security Advisory Council

Naomi Goldman, NLG Communications

Michelle Constant, Constant & Associates

Nancy Ta, Constant & Associates
Past Events
WHS Los Angeles Chapter Inaugural Luncheon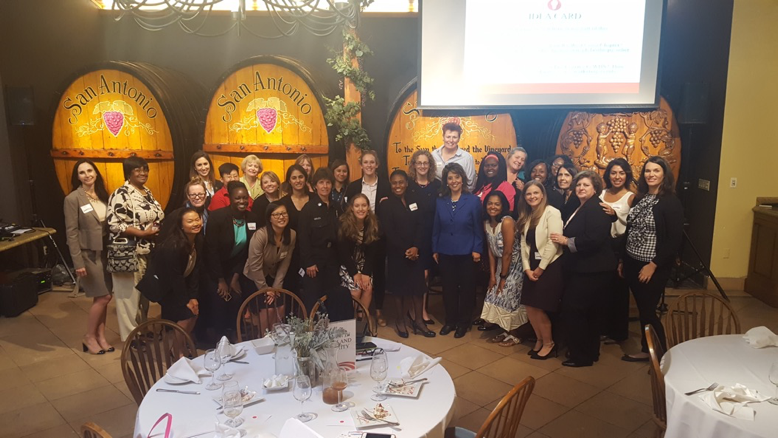 A special inaugural luncheon was held in October to introduce WHS to Los Angeles. The event, which was held at San Antonio Winery's Maddalena Restaurant in Downtown Los Angeles, proved to be a smash success! Emergency management and other women in homeland security came together to network, listen to engaging presenters, and celebrate the introduction of the Los Angeles Chapter of WHS.
The event featured keynote speaker Patty Todaro-Bolin, WHS Board Member and tenured homeland security professional, who provided an overview of the WHS organization. Attendees then listened as a panel of engaging and influential local emergency managers shared challenges, opportunities, and insights from throughout their careers.
The event was sprinkled with networking activities designed to facilitate the development of new relationships and foster long-standing connections (although this was by no means a shy group!). WHS is a non-profit, non-partisan professional organization for women working in the field of homeland security. Through monthly meetings, a book club, the WHS University, and the group's charity work, WHS has created a forum to strengthen relationships among homeland security professionals.
Learn more here:
http://www.womeninhomelandsecurity.com


Questions?
Contact Nancy Ta of Constant & Associates at (800) 745-3057 or Nancy@constantassociates.com.


Get Connected!
Join our WHS Facebook Group and connect to a diverse group of women working in homeland security - across the U.S. and around the world!