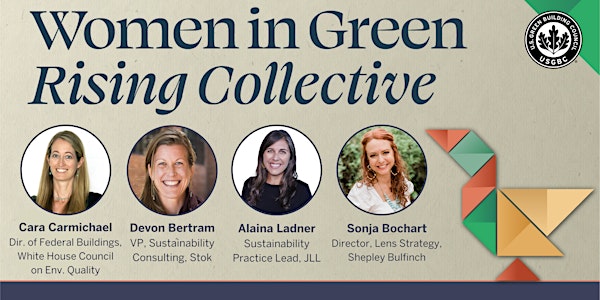 Women in Green Panel Discussion
Hear from female leaders in sustainability from across the Mountain Region.
About this event
In its 11th year, Women in Green provides a space for leaders who are shifting the narrative on empowerment, access, and impact. We will gather female leaders for powerful discussions and networking that remind us that each of us is a person of great influence. That each woman is part of a stronger whole, making an impact on building a brighter and more inclusive future.
This year, USGBC will celebrate individual empowerment through collective opportunities. Rising Collective reflects on the spirit of togetherness, of unity and the value of partnership during arduous times. At Women in Green, we'll use our collective voice to help strengthen our work in an effort to rise farther, faster. USGBC is committed to doubling down on these concepts to help create a better, more equitable road ahead.
Moderator: Sonja Bochart - Director, Shepley Bulfinch
Panelists: