About this Event
Women in Green: Culture of Courage was originally scheduled for December 3rd, 2019, but has been rescheduled because of inclement weather. The event will now occur on March 30th, 2020.
Women are driving the sustainability of the built environment. We are tasked with the most important mission of all: healing the earth.
This event is for professionals to network and connect with leaders in the field, promote women's leadership across the environmental and built environment industry, and to channel our efforts to build a better world where both genders have equal access to and are involved in leadership and decision-making.
At Women in Green 2019 we will share examples of when we've been courageous and hear from a panel of women as they discuss their own journeys and the need to be fearless.
Enjoy breakfast as we center ourselves and envision how together we can heal the planet.
Refund Policy:
Attendees that registered before or on the original event date (December 3rd, 2019) will have until February 7th, 2020 to request a refund for their ticket purchase. After that deadline, no refunds will be accepted. Attendees can also transfer their ticket to another person or donate the cost of your ticket to support Women in Green.
For registrations made for the March 30th date, attendees will have until 7 days before the event (March 16th, 2020) to request a refund. After that deadline, no refunds will be accepted.
Agenda
8:00 am – Networking Breakfast
8:35 am – Welcome and Introductions,
8:55 am – Table Activity, with Discussion Led by Table Leaders
9:40 am – Moderated Panel Conversation with Q&A
11:15 am – (Optional) BCBSMA Office Talk & Tour with Carolyn Manoukian, Design & Construction Manager, BCBSMA, & Monica Nakielski, Director, Sustainability and Environmental Health, BCBSMA
Travel Information
The Blue Cross Blue Shield of Massachusetts, located at 101 Huntington, is not accessible from the street. Please proceed to the Center Court inside the Prudential Center Mall and then to the Back Bay Arcade where you will find the entrance to 101 Huntington. The lobby is located directly across from the Sunglass Hut and Johnny Was and next to Sam Edelman and the Boston Sports Club (map below):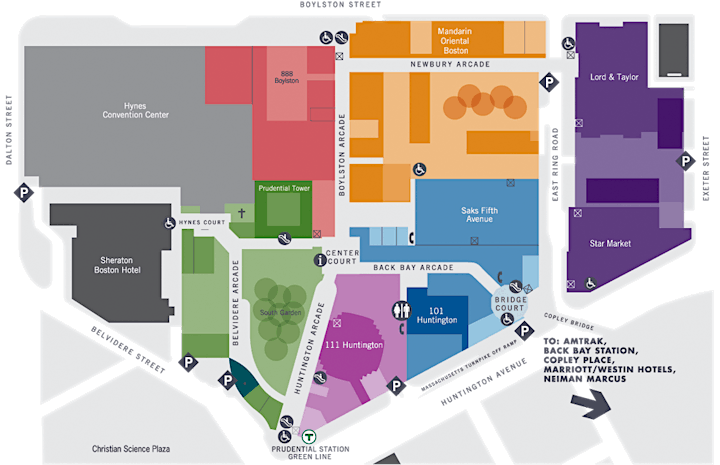 Parking Alert:
Belvidere Street parking entrance is closed due to construction. Please use Dalton Street or Huntington Ave. entrances if you are planning to drive to our location.
Thank you to our sponsors: