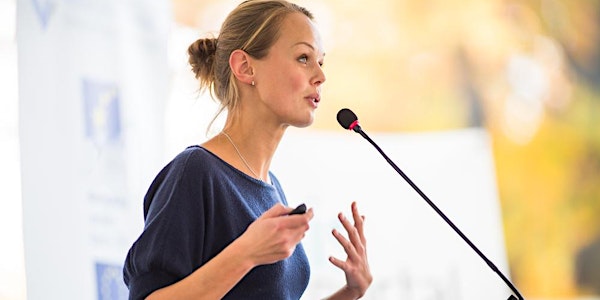 Women In Entrepreneurship
When and where
Location
Mechanics Hall Ballroom 519 Congress St. Portland, Maine 04101
Description
Building on the success of last year's Women in Entrepreneurship event held during Maine Startup & Create Week, this moderated, future-focused panel will feature five carefully selected, amazing women entrepreneurs. Discussion will be shaped by the advice and experiences of our panelists and questions will address key elements of success, difficult decision making and innovative solutions to some of the current challenges that women are faced with.
MONDAY MORNING UPDATE (10:08AM): DUE TO AN OVERWHELMING LAST MINUTE RESPONSE, WE HAVE JUST SOLD OUT OF LUNCHES. WE HOPE YOU WILL STILL ATTEND THE PANEL AND WILL HAVE SOME ADDITIONAL DRINKS AND CHIPS, BUT WILL NOT BE ABLE TO PROVIDE LUNCH FOR ANY ADDITIONAL REGISTRANTS.
Check-in for this event will start at 12:15 p.m.
The panel discussion will begin at 12:30 p.m. There will be a Q & A session following the panel and we will wrap up by 1:45 p.m.
This event is FREE for all Maine Startup & Create Week pass holders. Registration required.
Our Panelists
Elisa Doucette, Freelance Writer and Owner of Craft Your Content
As a location independent entrepreneur, Elisa has lived in Indonesia, Thailand, and the Philippines, and has traveled through many other Southeast Asian, North American, and European countries looking for stories to share with the world. She is the owner and primary editor of Craft Your Content, a content editing and management agency, with a syndicated column of her own (Shattering Glass on Forbes.com – On Breaking Through The Perceived Limitations We Set For Ourselves). Elisa is a Maine native and her work has been featured in The New York Times, The Boston Globe, Forbes, Yahoo! Small Business, The Shine Network, The Huffington Post, and Brazen Careerist among many others
Jean Hoffman, Founder of Putney Inc.
Following the sale of Newport Strategies, Inc. to Thomson Reuters in 2004, Ms. Hoffman has started and grown two other companies serving the generic pharmaceutical industry. Ms. Hoffman was named EY Entrepreneur Of The Year ™ 2014 Award winner in the Life Science category, a 2012 MaineBiz Business Leader of the Year, a 2011 Mass High Tech Business Leader "Woman to Watch" and was invited to the inaugural Goldman Sachs Builders & Innovators Summit as one of the 100 most intriguing entrepreneurs in America.
Becky Rand, Owner of Becky's Diner
An honoree at the Maine Junior Achievement's 2015 Maine Business Hall of Fame Induction Ceremony, Ms. Rand opened the iconic landmark restaurant in 1991 and has since received praise from Gourmet Magazine, The Food Network, Rachel Ray, Guy Fieri, Men's Health and more as one of America's Best Diners.
Shana Aldrich Ready, Founder of THE ROPES
A graduate of the Rhode Island School of Design, Shana's career in apparel design took her to New York and Boston before returning to Maine to found The Ropes. The fast growing company has been featured by Elle Magazine, Teen Vogue, Glamour Magazine, L.L. Bean, and the signature bracelets can be found in stores all over the world, from Japan to Paris, and throughout the U.S. in places like J.Crew, Baublebar and Mark & Graham.
Thank You to Our Sponsors:
Presenting Sponsors


Supporting Sponsors