Description
Women in eDiscovery Los Angeles, Orange County, and San Diego Chapters invite you to the second annual SoCal Tech Conference, featuring eight education sessions, tech demonstrations throughout the day on the latest artificial intelligence tools, and a networking happy hour. Registration is free and open to members + non-members.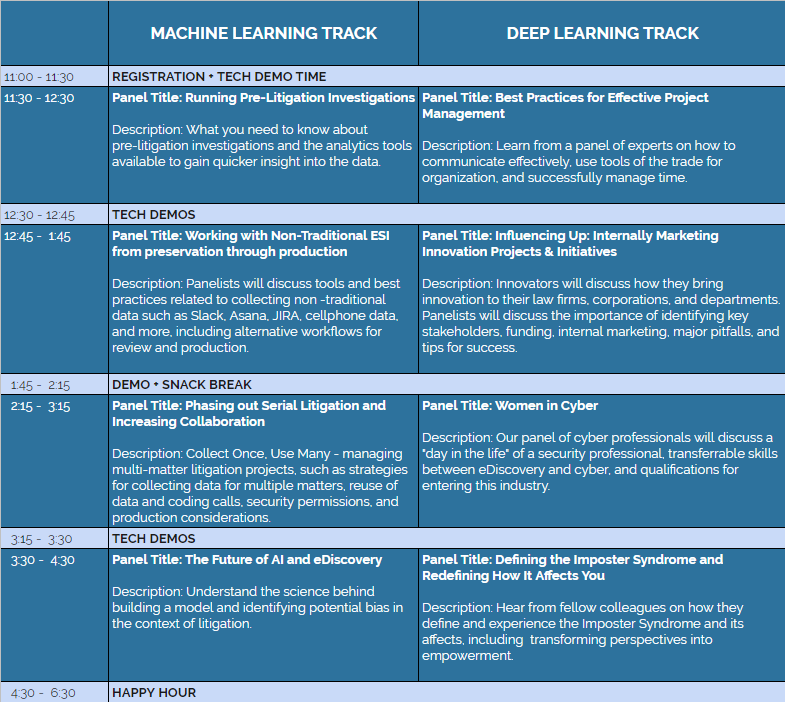 The conference will be hosted at the Hilton Garden Inn in Irvine, California. Parking is free for all conference attendees.
If you would like to stay overnight at the hotel, we have reserved rooms at a discounted rate for Women in eDiscovery conference attendees. To book a hotel room, please click on this link or call the hotel at 949-224-3900 and ask for the S.C. Women in eDiscovery room rate.
A huge thank you to all of our wonderful sponsors! Without you, this conference would not be possible:
PLATINUM SPONSORS: ONNA | HAYSTACKID
GOLD SPONSORS: ARCHER SOFTWARE | CATALYST | CLOUD NINE | CONSILIO | CYXTERA | MANGALAM | RELATIVITY | VERITONE
SILVER SPONSORS: CELERITAS | EVERLAW | FLATWATER | FTI