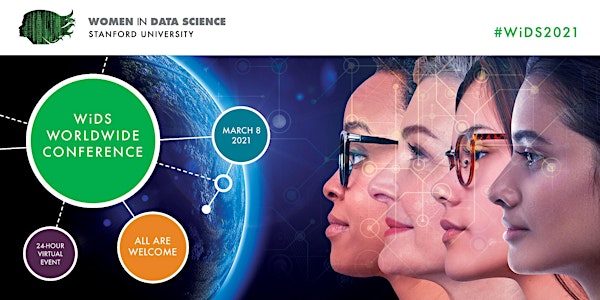 Women in Data Science (WiDS) Worldwide Conference
Women in Data Science (WiDS) aims to inspire and educate data scientists worldwide, regardless of gender, and to support women in the field.
About this event
Join us on March 8, 2021 (GMT), for the 24-hour virtual Women in Data Science (WiDS) Worldwide conference. Follow us as we follow the sun around the world on International Women's Day, celebrating women in data science and related fields. Hear speakers from around the world talking about their research, their work, and their careers; learn the latest data science skills from world-class instructors; and connect with attendees and employers.
Ticket sales have ended. Join us online, as many of the conference sessions are available via the WiDS Worldwide livestreams.
The conference will follow the sun, beginning in APAC, moving to EMEA, and finishing in the Americas. WiDS Worldwide registrants get access to 24-hours of content, both during the broadcast and post-conference on-demand, including:
Main Stage: Keynote addresses, technical talks, and panel discussions with 40+ speakers
WiDS Workshops: 14 data science workshops taught by a panel of distinguished instructors
Meet-the-speakers: Sessions that provide a deeper dive about topics covered during the main session
Expo: Conference expo to explore career opportunities
Networking: In-platform chat throughout the broadcast, including designated sessions
Best of WiDS: Highlight talks and interviews from around the world from the first five years of WiDS
In addition, you can check out WiDS regional events being planned by our WiDS ambassadors with regional speakers, content, and networking.
WiDS Worldwide Conference Schedule (click)
THANK YOU TO OUR WiDS WORLDWIDE SPONSORS!
Global Visionaries: Facebook | Intuit | Walmart Global Tech | Wells Fargo
Innovation Thought Leaders: IBM | Google | Microsoft | MathWorks | SAP | Total | GM
Stanford Sponsors: Stanford Data Science | Stanford ICME | Stanford Mobilize
Contact:
For more information about the conference, refer to our website: widsconference.org
For program-related inquiries, please email: widsconference@stanford.edu
For all other registration-related inquiries, please email: meetingplanning@stanford.edu
This is an online event on Hopin (event platform)