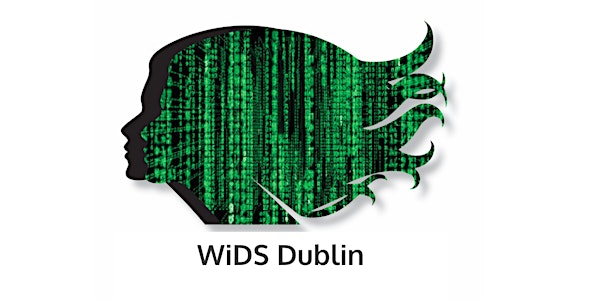 Women in Data Science (WiDS) Dublin 2018
When and where
Location
The Dock 7 Hanover Quay Grand Canal Dock 2 Dublin Ireland
Description
Women in Data Science (WiDS) Dublin 2018
We are delighted to announce that Women in Data Science (WiDS) is finally coming to Dublin, Ireland in partnership with Accenture and HER+Data!
WiDS Dublin is an event to celebrate women in Data Science. We'll feature local speakers for inspiring talks in the fields of data science, machine learning and analytics. We'll also broadcast a recorded session from the main WiDS Stanford 2018 Conference. Schedule and details of our amazing speakers are below.
Follow us on twitter: @WiDSDublin
Schedule
6.00: Registration & Networking

6.30: Welcome

6.45: Technical Talks + Video Showcase from the Global WiDS Conference

8.00: Networking

8:45: Event Close
Our Speakers
Dr. Elizabeth Daly is a Research Scientist and Research Manager leading the Cognitive Analytics group in IBM Research - Dublin. She is also an Adjunct Assistant Professor in the School of Computer Science and Statistics at Trinity College Dublin. She received her Ph.D. in Computer Science from Trinity College Dublin in November 2007 with her thesis entitled "Social Network Analysis for Routing in Disconnected Delay-Tolerant MANETs". Before joining IBM Research - Dublin she was a post-doctoral researcher in the IBM Research Centre for Social Software in Cambridge, MA. There her work focused on the intersection of social networks and information systems. More recently her team is researching innovative solutions for interactive AI where systems influence users and users influence systems. She is on the program committee of high impact conference such as RecSys, IUI, WWW, UMAP and ICWSM. She is currently serving on the Royal Irish Academy's committee on Engineering and Computer Science. More at: @elizabethmdaly
Dr. Athina Kanioura is Accenture's Global Data Science Lead. She has a wealth of knowledge and insight which she has amassed over an impressive career, both in academia and business. Athina has a BSc in Economics and Shipping, MSc in Economics and Finance and PhD in Macroeconomics and Econometrics. Her specialism is in applied statistics and machine learning. Athina's 12 years' practical experience have seen her focus her expertise on a wide range of areas, including personalization; customer analytics; pricing; omnichannel optimization; enhancing marketing and communication effectiveness and content optimization. Her career to date has encompassed innovation in sectors ranging from Telecommunications, Hi-tech industries and Life Sciences to FMCG, Financial Services and Resources.
Dr. Amelia Kelly is a speech scientist and engineer, with 12 years experience spanning academia and industry. She holds a PhD in Speech Technology (2012), and an M.Phil (2007) in Linguistics, both from Trinity College Dublin, as well as a B.Sc. in Physics and Astronomy (2004) from National University of Ireland, Galway. Prior to joining Soapbox Labs as the Director of Speech Technology, she worked as a speech recognition engineer for a start-up company in Silicon Valley, and a solution engineer in IBM Watson focussing on natural language processing and dialog systems. More at: @amelia_kelly
Noelle Doody is SSE Airtricity's Head of Analytics. Noelle holds a B.Eng. in Mechanical Engineering and a MSc. in Business Analytics, where her thesis focused on using analytics for wind farm performance management. Prior to joining SSE Airtricity, Noelle was a Senior Manager in Accenture's Fraud Analytics Centre of Excellence and led analytics projects in a variety of industries including utilities, health, public services, financial services and telecommunications. As SSE Airticity's Head of Analytics, Noelle leads a team focused on a variety of analytics applications including customer analytics, operational analytics, forecasting and financial modelling and optimisation.
About WiDS
The Global Women in Data Science (WiDS) Conference aims to inspire and educate data scientists worldwide, regardless of gender, and support women in the field. This annual one-day technical conference is held at Stanford University along with 100+ locations worldwide, hosted by WiDS Ambassadors. The conference provides an opportunity to hear about the latest data science related research and applications in a broad set of domains. All genders are invited to participate in the conference, which features exclusively female speakers.
In 2017 more than 75,000 people from 75 countries participated in WiDS. We couldn't be more excited for WiDS Dublin to join the movement :) And we look forward to partnering with Accenture and HER+Data to put this event together.