About this Event
We are pleased to invite you to the 3rd annual Women in Data Science conference in Stockholm! After doubling the size of the conference from 2018 to 2019, we've once again secured a larger venue and are hoping that this will allow us to welcome everyone who wants to attend. This year, the conference will contain 4 invited technical talks, 6 lightning talks, 1 career panel and lots of opportunities to meet and connect with other women in the field.
This is a technical conference created by female data scientists and featuring only women on stage, aimed towards current or aspiring practitioners of Data Science, Data Analytics, Machine Learning and AI. However, participants of all genders and backgrounds are more than welcome to attend!
The WiDS Stockholm conference is a labor of love and the organizers are not paid for their work. Tickets for our event are always free, because we believe in welcoming everyone regardless of their financial means. This means we are heavily reliant on sponsorship for all our events, and we are immensely grateful to the companies who have chosen to support this years conference: Spotify, Combient Mix, King, Gradient Descent, and iZettle.
Preliminary agenda
10:00-10:40 Registration
10:40-11:00 Introduction to Women in Data Science Sweden and Women in Data Science Stockholm
11:00-11:30 Invited talk: "Human-centered AI: challenges and opportunities" by Iolanda Leite, Assistant Professor at KTH.
11:30-12:00 Invited talk: "Applying Advanced Statistics for Attribution Models! When input data is the biggest challenge" by Farnaz Motamediyan, Data Scientist at iZettle.
12:00-13:00 Lunch & Mingle
13:00-13:30 Invited talk: The State of Data Science, Machine Learning and AI 2020: Adoption, Technology, Research Trends, Jobs
13:30-14:00 Invited talk: "Algorithmic responsibility & data science challenges in music" by Henriette Cramer, Principal Research Scientist at Spotify.
14:00-14:30 Invited talk: "Deduction from Production" by Josefin Ondrus, Lead Architect at Recorded Future.
14:30-15:15 Coffee & Snacks
15:15-16:15 Lightning Talks: Machine Learning Tools and Data Infrastructure in Everyday Work (6 talks)
16:15-17:15 Career Panel and Q & A
17:15-17:30 Closing Remarks
17:30-20:00 Food, Drinks and Mingle @ Spotify's Office
Our sponsors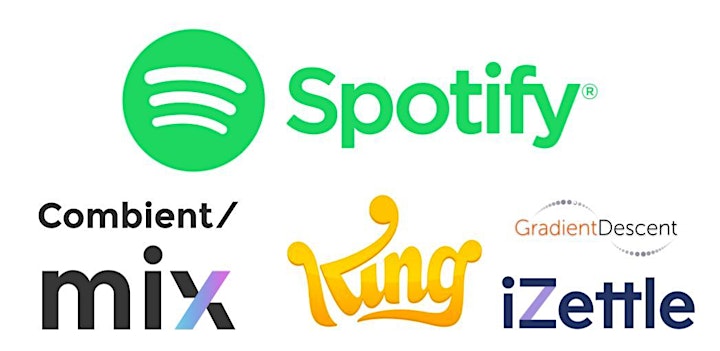 WiDS Stockholm is an independent event organized by Women in Data Science Sweden to coincide with the annual Global Women in Data Science (WiDS) Conference held at Stanford University and an estimated 150+ locations worldwide. All genders are invited to attend WiDS regional events, which features outstanding women doing outstanding work.