Women in Data Science Conference @ Stanford University
About this Event

Student/PostDoc Attendee Wait List Form and Academia Wait List Form have been created as these tickets are currently sold out. Click link and complete Google Form to add your name to the list. You will be notified via email should a Student/PostDoc or Academia ticket become available. Thank you!
Stanford University Staff STARS Registration link (STAP FUND ELIGIBLE) Search for STARS Class Code: CME-1000-030220 or by Class Name: Women in Data Science (WiDS) Conference. (SOLD OUT)
Join us on March 2, 2020 at Stanford University for the 5th annual Women in Data Science (WiDS) Conference. This one-day technical conference features outstanding women doing outstanding work in data science. Speakers and panelists are from academia, industry, non-profits, and government, representing a wide variety of domains. All genders are welcome and encouraged to attend.
Pricing
This event sells out quickly, and early-bird registration ends on November 15th. Beginning November 16th, pricing for the general and academia tickets will increase by $50, but student pricing will remain the same.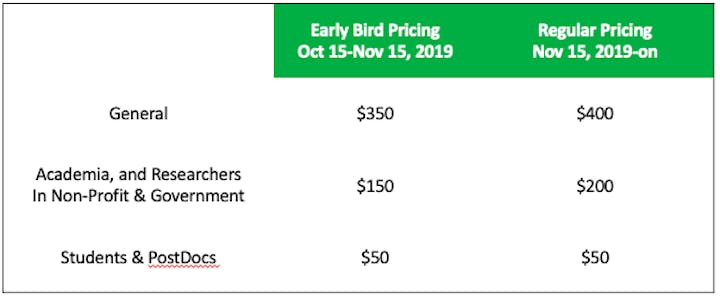 THANK YOU TO OUR SPONSORS!