Description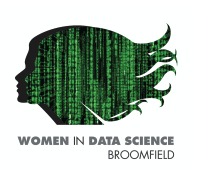 WHAT IS WIDS?
The Women in Data Science (WiDS) initiative aims to inspire and educate data scientists worldwide, regardless of gender, and to support women in the field.
WiDS started as a conference at Stanford in November 2015. Now, WiDS includes a global conference, with approximately 150+ regional events worldwide; a datathon, encouraging participants to hone their skills using a social impact challenge; and a podcast, featuring leaders in the field talking about their work, their journeys, and lessons learned. ​
ABOUT THE EVENT
The Women in Data Science - Broomfield is a group of data science enthusiasts passionate about coming together and helping each other grow. WiDS Broomfield is an independent event organized by Astha Puri and Manali Ghosh to coincide with the annual Global Women in Data Science (WiDS) Conference held at Stanford University and an estimated 150+ locations worldwide. All genders are invited to attend WiDS regional events, which features outstanding women doing outstanding work.

Agenda:
12:00 pm - Meet and Greet, food and drinks

12:15 pm - Watch WiDS Stanford conference keynote and talks of interest to the group

1:00 pm - Thoughts and discussion


1:30 pm - Open networking hour and ideas for future meetups
Location: The event will take place in Broomfield, Colorado. Exact location will be sent to the participants on registration as we get closer to the event.