Honoring African women making a huge difference in cybersecurity.
About this Event
In the WICA Africa 2020 Awards Gala you will:
gather with cybersecurity women and allies in Africa and beyond
honour and celebrate the WICA Africa 2020 finalists and winners
plug into the women in cyber movement in Africa
get inspired, get challenged and get moved to action
Agenda
Welcome and Intros
Sponsors Briefing
Keynote Address
Judges Briefing
Winners Announcement
Winners Address/Panel
Closing
For inquiries, email editor@cyberinafrica.com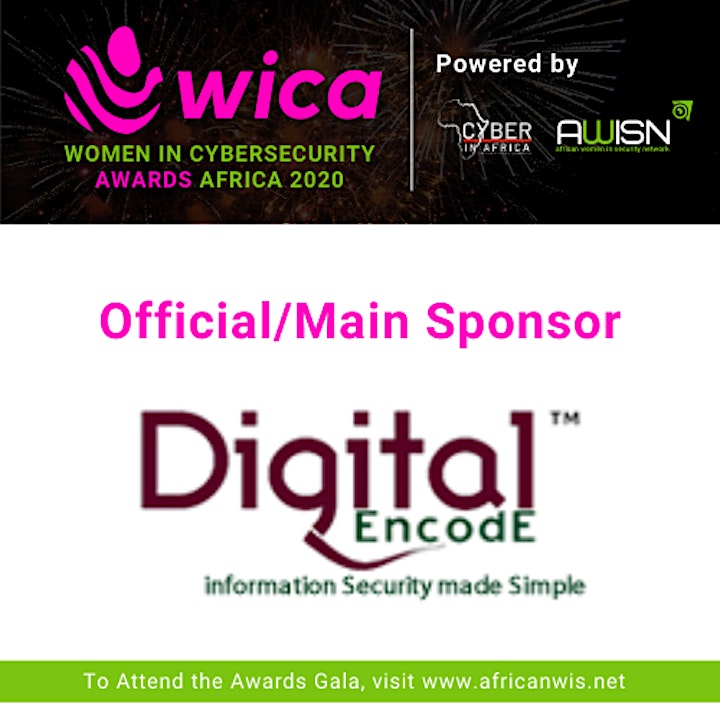 Digital Encode is a multi-award winning Pan-African Cybersecurity Professional service firm founded in 2003. At Digital Encode, technology serves two purposes: to save money and solve a problem.
Digital Encode also provides advisory services toward improvements in Information Security Management, Cybersecurity, Vulnerability Management, Penetration Testing, Computer Forensics, Risk Management and Business Continuity Management.
GOOD FACT: The culture at Digital Encode promotes inclusion and diversity, with 45% of their workforce being women.
Know more and contact them at www.digitalencode.net