About this Event
Join the Women's Voices in Tech community for this special holiday event featuring:
Networking
Tech talks from some incredible women coders
a thought-provoking panel discussion
Career opportunities
This event is open to ALL women as well as anyone who supports the advancement of women and believes in the importance of diversity.
Gifts for Children's Hospital, Los Angeles
This holiday season, let's help kids at Children's Hospital, Los Angeles by donating TOYS! You can't imagine the difference your gift can make to a hospitalized child and their families. We ask all attendees to bring a new and unwrapped toy valued at $10.00 or more. Click here to see toy donation guidelines.
Lightning Tech Talks
Our special guest women engineers will take the stage and share their knowledge from their areas of expertise. Regardless of your level of experience, you are sure to learn from this series of talks by these talented women:
Emily Jaffe - Software Engineer at Beautycounter
Web Accessibility
In this talk you will learn why accessibility is important and things to keep in mind to improve site accessibility during development.
Why does accessibility matter?
What to consider when making this website more accessible?
What are some benchmarks you can use to determine if accessible website is successful?
How do disabled users interact with a website in a meaningful way?

Ana Staiko - Senior iOS Developer at Evite
SwiftUI
SwiftUI is an innovative, exceptionally simple way to build user interfaces across all Apple platforms with the power of Swift.
In this talk, Ana Staiko will discuss how she uses SwiftUI and automated UI Testing at Evite to help regression.

Murriel Perez - Senior DevOps Engineer at Johnson Controls
Ground Up DevOps
DevOps simultaneously functions as a philosophy, culture, and engineering role, and the definition of DevOps varies depending on who you ask, where you work, or the current sentiment of the tech community.
This talk will provide a quick, round-the-world introduction to the DevOps ecosystem. We will focus on DevOps methodologies and commonly used tools and systems.
Panel Discussion
Learn how our guest women software engineers started their journeys to a career in tech, challenges they face on the job as a woman engineer and how they overcome them, advice for women aspiring to be engineers and more.

Victoria Dew - Moderator & Co-Organizer at Women's Voices in Tech
Network with the Tech Community
As with all Women's Voices in Tech events, this evening will bring together some of the most successful, influential, and inspiring women entrepreneurs, and techies in Los Angeles. Expand your professional network!
Looking for a new career opportunity? Speak Directly with People from Motor Trend Group
With a monthly reach of more than 131 million, MTG is the largest automotive media company in the world. With franchises including MotorTrend, Hot Rod, Automobile, Wheeler Dealers, Roadkill, Best Driver's Car, and dozens of other world-class brands, we are reimagining storytelling around mobility.
Speak to Mark Bradbury, Recruitment Manager at MotorTrend Group about positions at Motor Trend's Manhattan Beach office. Positions include:
Mid Level JavaScript Engineer (React and Node)
Software Development Engineer in Test - Web
Software Engineer PHP/JS
Senior Software TV Engineer
Software Engineer, Android
Senior Software Engineer, React
Senior Software Engineer, Back-End Java
Senior Roku Software TV Engineer
Senior Product Manager
Director, E-Commerce & Business Development
Software Engineer, Digital
QA Engineer - Web
Free light snacks and beverages. Click here for important parking info.
This event is not suitable for outside recruiting agencies scouting for talent.
Evening's Agenda
Networking - 6:00 p.m - 6:45 p.m.
Lightning Talks - 6:45 p.m. - 7:50 p.m.
Break - 7:50 p.m. - 8:00 p.m.
Panel Discussion - 8:00 p.m. - 8:20 p.m.
Audience Q&A - 8:20 p.m. - 8:30 p.m.
Closing Remarks & Networking - 8:30 p.m.- 9:00 p.m.
(Schedule subject to change)
About Women's Voices in Tech
Women's Voices in Tech is presented by Code District Software, Engineering Training. Our purpose is to help women in the technology field and those aspiring to begin careers in the field, to forge strong, lasting relationships within the community. We're creating unique opportunities & connections to help you grow your business and career. What to become a member of the Women's Voices in Tech community? Join our meetup here.
Partner with Us
If you would like to host or sponsor an event, promote your brand, product or service online or at an event, or recruit from our network of talented and diverse professionals, e-mail us at hello@womensvoicesintech.com.
Past WViT Events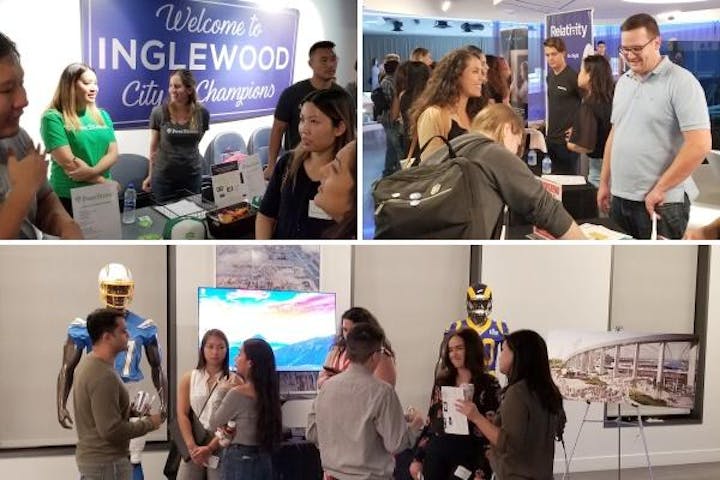 Women in Tech Career Building and Networking Night • LA Stadium Premiere, Playa Vista • 10/23/19 • Sponsored by Motor Trend, eSalon, Emerge Inc., Relativity Space, PeerStreet and Virgin Hyperloop One.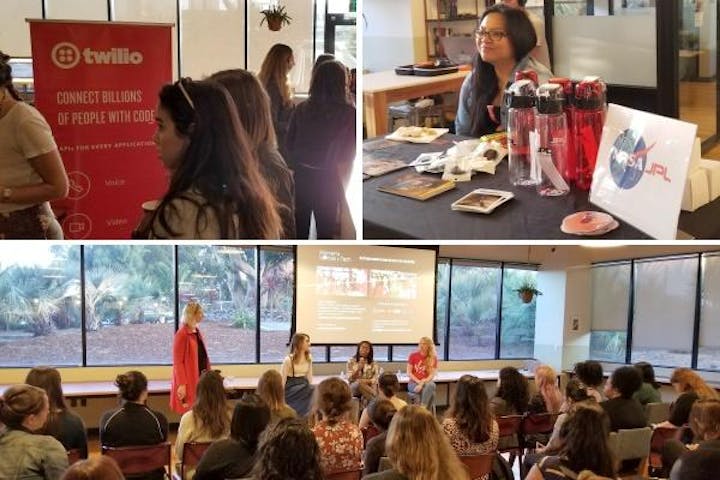 Women in Space Tech • 05/07/19 • WeWork, Manhattan Beach • Sponsored by Twillo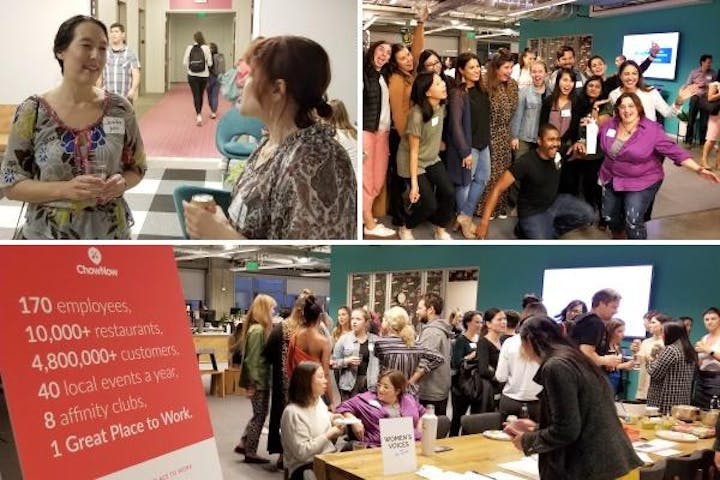 Women in Tech Networking Happy Hour • 10/04/18 • ChowNow, Playa Vista