About this Event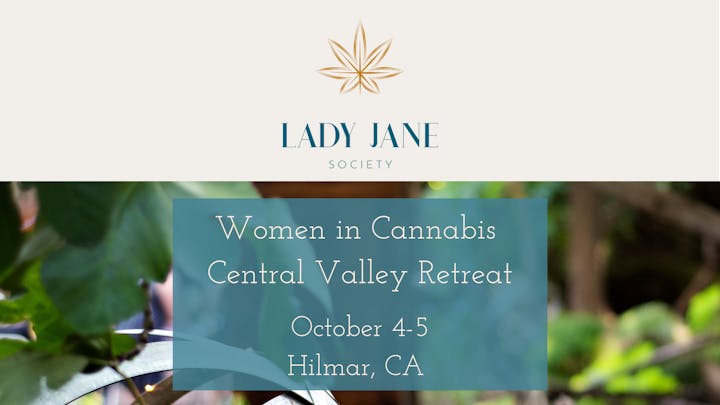 Join Us October 4 & 5, 2019
A Weekend Retreat for Women Working in Cannabis
Lady Jane Society is hosting a weekend of networking and inspiration with women product makers, buyers, distributors, retailers and influencers. You'll get to meet the women who are building the booming cannabis industry in California's Central Valley.
LJS is excited to host this event at Bella Forrest, an enchanting outdoor space nestled in a private forest grove in Hilmar, CA.
The weekend will feature:
Networking with women working in cannabis
Inspiring talks on building a cannabis business, community building and political action.
Celebrating women leaders in cannabis at our first awards ceremony
LJS believes we are stronger as a community and the best way to build it is to get us all together to get to know one another. So we've created an exciting weekend of education, recognition, and relaxation just for our fellow ladies in cannabis (hemp and CBD too)!
We hope that you will join us in building a powerful community of women supporting one another in our careers in cannabis. By making connections throughout the state and the country we'll have more power and ability to ensure women will have a level playing field in cannabis.
We've got an incredible lineup of Women Speakers who will share their experiences of life on the cannabis supply chain. REAL dialogue that will enable us, together, to find REAL solutions.
The weekend is also about having fun, making friends and making business deals! So we packed the weekend with lots of activities to help you make this happen! Just some of the wonderful things we have planned for you:
Cocktails
Delicious Meals catered by local restaurants
Dreamy Lounge so you can kick back and relax while making new friends and business contacts
Mindfulness Exercises to help you stay grounded and in the moment
You'll have everything you need to make this weekend a special event you'll want to attend every year.
*** Oaksterdam University has generously donated 2 scholarships to our attendees! We'll be giving these away during our retreat. If you would like to be considered for the scholarship, please contact hello@ladyjanesociety.com once you buy your ticket!
The Agenda
FRIDAY
3:00 - Registration
3:30 - Cocktails, Lounge Opens
6:00 - Dinner catered by Traveling Pizza ~ Artisan style wood fired brick oven pizza prepared on site, salad & dessert pizza's
6:30 - Program Begins
8:30 - Networking, Lounge
SATURDAY
2:00 - Door Open
2:30 - Program Begins
6:45 - Happy Hour/Networking
7:15 - Dinner: Greens on Tenth
7:45 - Awards Ceremony
9:00 - 11:00 - Social Time
Please contact us if you are coming from out of town or out of state. We'll have a list of dispensaries, grows and other fun things for you to do while visiting our area. The Central Valley cannabis industry is thriving and we'd love to share it with you!
***LODGING INFORMATION***
The event is located about 15 miles from lodging.
~ Holiday Inn Express, 3001 Hotel Drive ~ Turlock, CA 95380, Ph. 209.664.9999
~ Fairfield Inn & Suites Marriott, 3301 Countryside Dr. ~ Turlock, CA 95380, Ph.209.668.3800
We are excited to meet you!!
Kyra, Anna, Clarissa and Jessica
Co Founders
For easy check in, if you are sponsoring women from your company please list their names when you purchase tickets!
For My Bud Vase Sponsorship discount enter LJS25: https://mybudvase.com/collections/all
***********THANK YOU TO OUR SPONSORS!!!!***********