Come NetWork-Out With Us!
About this event
Sunday, December 8th - 1:30pm - 3:30pm
This one-of-a-kind networking event is an opportunity to connect with other like-minded women and share knowledge, expertise, and experience -- and get in a good workout too! In partnership with Moore Dancing, The Women in Business LA Networking Group aims to create an environment that inspires, encourages, and strengthens women.
Come make connections, spark friendships, and try out a new workout all in one place! We'll kick off the event with 45 minutes of cardio dance fitness led by Carina Conti, Betsy Struxness and Lisa Medford. After you work up a sweat, stick around for an hour of networking, lite bites, raffle prizes and special guest speaker Debra Eckerling, author of Your Goal Guide: A Roadmap for Setting, Planning and Achieving Your Goals, will give you 5 tips to set yourself up for success in the New Year!
Feel free to bring something related to your business to donate as a prize for the raffle. (Donations not required for participation, but they are encouraged!)
RSVP Here: https://www.eventbrite.com/e/women-in-business-wla-fitness-meet-up-tickets-79297477891
Special Thanks to Our Sponsors...
Pressed Juicery, Bobo's, Ellenos Yogurt, Roots Hummus, Wanu Water, Vicente Foods, Drip Doctors, Pharmaca, Blushington
Convenient street parking can be found along Montana Avenue and West of Bundy on Gretna Green or in the surrounding residential neighborhood.
Please call (310) 925-5499 or email info@mooredancing.com if you have any questions.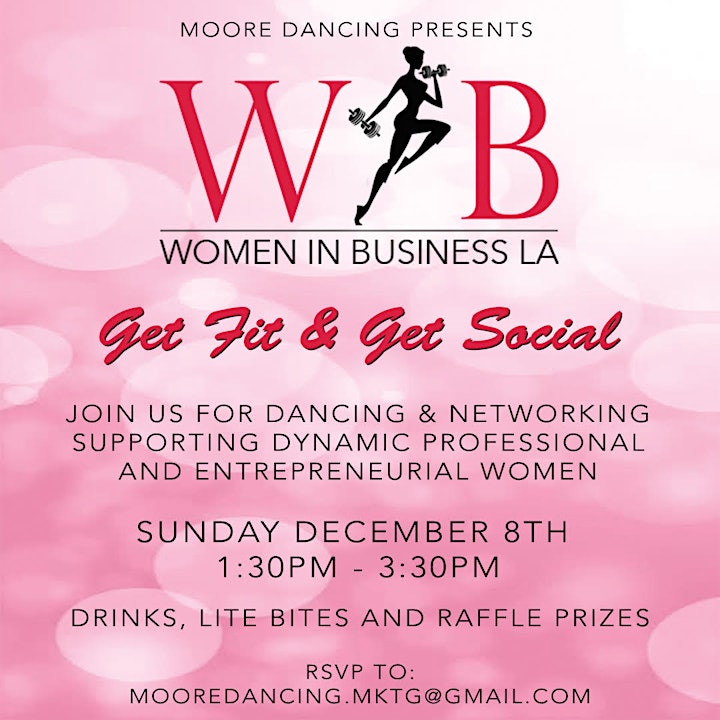 Organizer of Women In Business WLA Fitness Meet-Up
MOORE Dancing began as a vision. Realizing that most studios cater to professional dancers, Tiffany made it her mission to create a space where people from all walks of life could come together and dance regardless of experience! The first studio of its kind to emerge in Los Angeles, MOORE is your "go-to" source for inspiration, motivation, and transformation for artists, athletes and everyone in between! Opening to a hugely welcoming westside community in  2011 MOORE has resolved to bring well-being and the highest level of service and instruction to our clients one song at a time. Follow our journey at The Pulse and join the Moore Dancing family here.
As LA's first cardio-dance studio, we have created an environment where fun and fitness unite. Where working out doesn't feel like work, and where feeling good is just as important as looking good! We believe in the transformative power of dance and aim to make every experience with us uplifting and unforgettable. Our dynamic classes and motivating instructors offer an effective, exciting exercise that rejuvenates the mind, body, and soul. Whether you want to turn it up, sweat it out, or just let go, dancing MOORE is guaranteed to help you achieve your goals. Dance your way to health and happiness today!
PARKING:
-Metered street parking on San Vicente & Montana
-Street parking available on Gretna Green (no meters)
-Street parking available on Montana, alongside golf course (no meters)