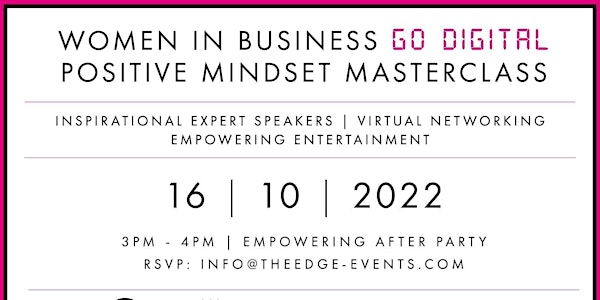 WOMEN IN BUSINESS POSITIVE MINDSET MASTERCLASS
POSITIVE MINDSET MASTERCLASS
About this event
We are holding an exclusive VIP masterclass! The subject: Positive Mindset
A few Q&As
✨️Who is it for: Everyone! Aimed specifically at women supporting other women in business however ALL welcome!
✨️What can be gained by attending?: Learn new skills to help drive your business forward AND personal development too!
✨️How certain strategies with Positive Mindset can be a game changer!
✨️What else can I expect: Meet new connections & network online!
✨️Why zoom & not in person: Good question. It is all about balance! A masterclass like no other without the "classroom" style! Without the expense of car parking & expensive drinks!
What else is included:
✨️A delegate list following the event & a course overview PLUS Your very own blueprint print to roadmap your business & personal life!
✨️Anything else?✨️ YES Entertainment by the award winning solo artist Jessica Helen Schofield
Wellbeing & lifestyle brands!
World Privilege Plus exclusive savings on everyday essentials! Our Headline Sponsor is back!
Ben Smith Photographer
C&C Aesthetics
Charlotte Lockett Coaching
✨️A vibrant dress code with a prize for the best dressed!
✨️Exclusive offers from the panel
✨️Q&A
✨️Networking - An opportunity to introduce your company LIVE
ALL of this The gift that keeps giving 🎁
Included in your ticket
AND we are supporting Mind ✨️
To attend get in touch! OR RSVP INFO@THEEDGE-EVENTS.COM ✨️🙌
#womeninbusinessgodigital #positivemindset