Description
Education is the key to the economic future of Utah and the Country. Come hear two of the most influential educational figures speak about the state of education and how their focus impacts the future of workforce development.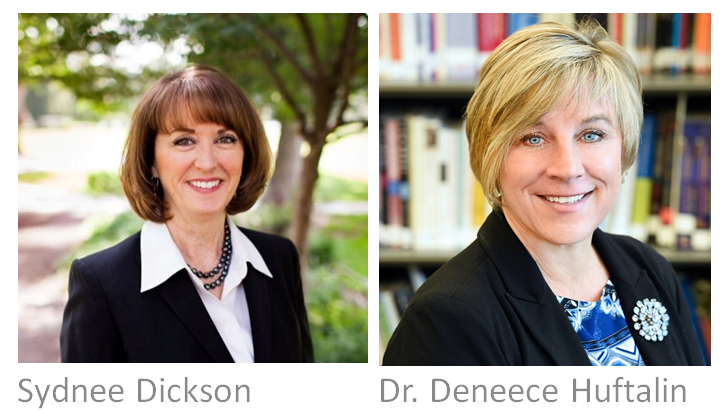 SYDNEE DICKSON
State Superintendent of Public Instruction
UTAH STATE BOARD OF EDUCATION
Sydnee Dickson has been serving the children of Utah as a proud educator for the past 36 years. The first 28 years were spent in Utah public school roles including teaching, counseling, and school and district administration. She has earned state and national recognition for her work in community engagement, drug prevention and intervention, professional learning for educators, working with school leaders, and innovative leadership. Dr. Dickson earned master's degrees in School Counseling and Education Administration, and a doctorate in Education Leadership and Policy. She is an alumni of Dixie State University, Utah State University, Brigham Young University, and University of Utah. Sydnee joined the Office of the Utah State Board of Education eight years ago to expand Educator Licensing services and develop a Teaching and Learning section. Sydnee was asked to serve as Deputy Superintendent of Public Instruction in June, 2014 and was named as State Superintendent of Public Instruction on June 23, 2016.
Dr. Dickson has represented Utah on national committees, task forces, and boards, including serving on the Board of Trustees for Learning Forward and West Ed Board of Directors . Most recently she has contributed to national publication on teacher and leadership standards for preparation and improvement. Her expertise is centered on evidence-based professional learning and school leadership and her passion is focused on ensuring that each student is prepared for their future. To this end, Sydnee believes education is essential infrastructure to building strong communities, an economically vibrant state, and a civic minded society.


DR.

DENEECE G. HUFTALIN
President
SALT LAKE COMMUNITY COLLEGE
Dr. Deneece G. Huftalin was named the eighth President of Salt Lake Community College in September 2014 and feels privileged to have served SLCC students, faculty, and staff for more than two decades.
In her tenure as President, Dr. Huftalin has launched a Collegewide strategic planning cycle which has produced a new vision, mission, values, and strategic goals for the College. Dr. Huftalin is leading efforts to strengthen completion rates, transfer pathways, workforce responsiveness, and equity in student access and completion. Dr. Huftalin has also encouraged an environment of innovation and has challenged staff and faculty to "Deep Six" redundant or archaic processes, embrace emerging pedagogies such as Open Educational Resources (OER) and Competency Based Education (CBE), and to situate SLCC as a model for inclusive and transformative education.
Dr. Huftalin has taught in the Education, Leadership, and Policy program at the University of Utah and serves on a number of community boards and councils including the Governor's Education Excellence Commission, Salt Lake Chamber, EDCUtah, Utah Campus Compact, United Way of Salt Lake, and Sandy Area Chamber. She is also the current presidential sponsor for the Utah Women in Higher Education Network (UWHEN). Nationally, Dr. Huftalin serves as a Commissioner for the Northwest Commission on Colleges and Universities (NWCCU) and as a member CEO for RC-2020, Inc.
Prior to her current role, Dr. Huftalin served as the Interim President, Vice President of Student Services, Dean of Students, and Director of Academic and Career Advising. Before joining SLCC in 1992, Dr. Huftalin held positions at William Rainey Harper College, Northwestern University, the University of Utah, Stanford University, and the Institute for Shipboard Education.
Dr. Huftalin and her husband Tim are the parents of two sons, Max and Eli. Dr. Huftalin earned a bachelor's degree from the University of Utah, a master's degree from UCLA, and a doctorate in Education, Leadership, and Policy from the University of Utah.
Women in Business Luncheons Sponsored by: