Description
Come visit one of our chamber members, Instructure, as they host the Women in Business Luncheon: WOMEN TECH PANEL. Listen to industry experts talk about technology in business, where it's going, and how to leverage it to work for your business.
WOMEN TECH PANEL. Listen to industry experts talk about technology in business, where it's going, and how to leverage it to work for your business.
Come hear from industry experts: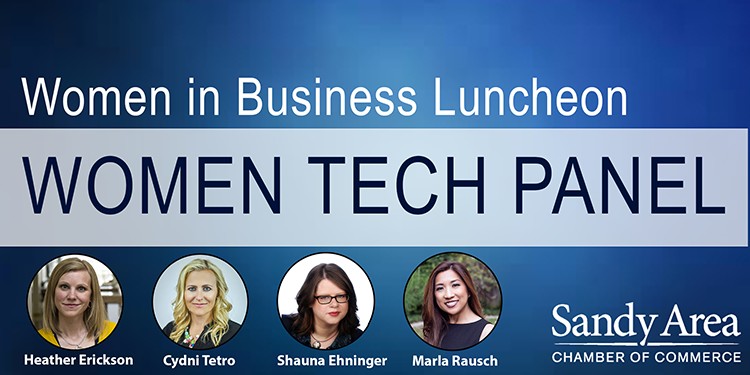 Heather Erickson, VP Marketing - Instructure
Heather Erickson is a marketing communications exec who has built a career helping tech brands tell their story. Currently she is Vice President of Marketing for Instructure where she leads marketing efforts in North America for Canvas, the company's education-focused software. She has spent 17 years in multiple roles managing global Communications teams, including internal and external PR, social and content for global tech companies like Instructure, Ancestry.com, 3M, and the Sleep Number bed. Heather has been honored by distinguished industry associations, including PRSA, PRWeek and most recently was named one of Utah's 30 Women to Watch by Utah Business magazine. Heather earned her B.A. in Communications from the University of Northwestern in St. Paul, Minn.
Cydni Tetro, Founder - Women Tech Council
Cydni is a technology entrepreneur and executive focused on building, launching and driving customer acquisition for technology products. Recently the venture-backed 3D printing she co-founded was acquired. Prior to that she worked with Disney doing technology commercialization, built a social app with more than 80 million users and was CMO at a ventured-backed peer-to-peer search company. Her background as a computer scientist and MBA let's her bridge the technical and business worlds.
Most recently she had the opportunity to create partnerships with the world's largest brands, including Disney, Star Wars, MLB, MLS, NFL, Warner Brothers and Marvel and channel relationships with Target, Walmart, Sam's Club and Toys 'R' Us to help them deliver technology-based products to their consumers and guests.
She co-founded the Women Tech Council, a community of more than 10,000 men and women focused on the economic impact of women in technology. Their SheTech program for high school girls has had over 2000 young women have come through in the last 3 years.
Shuana Ehninger, Front End Engineer - Adobe
Shauna Ehninger has been a Front End Engineer at Adobe for 5 years, where she codes emails and landing pages to pixel perfection. She has lived in the Sandy area her entire life and graduated from Alta High School. In her spare time she considers herself an ailurophile, film connoisseur, music snob, fashion addict and community activist.
Marla Rausch, CEO - Animation Vertigo

Born and raised in the Philippines, Marla Rausch wanted to introduce the vast creative talent of artists from her home country to the 3D animation and motion capture industry. She established a production center in Manila, Philippines, with an Animation Vertigo team that is comprised of well-trained, seasoned trackers and animators who surpass quality standards, deliver on-time results and produce compelling and realistic results.
Prior to establishing Animation Vertigo, Marla worked freelance in Spectrum Studios and Sony Computer Entertainment America as a motion capture tracker. It was here that Marla learned the ins and outs and gained knowledge and experience of the animation and motion capture industry. Marla also worked as a financial advisor with Ameriprise Financial and American Express Financial Advisors. She graduated from the University of the Philippines with a bachelor's degree in mass communications.
Today, Marla is a member of the Motion Capture Society and the International Game Developers Association. She resides in Irvine with her husband and two children.
Women in Business Luncheons Sponsored by: