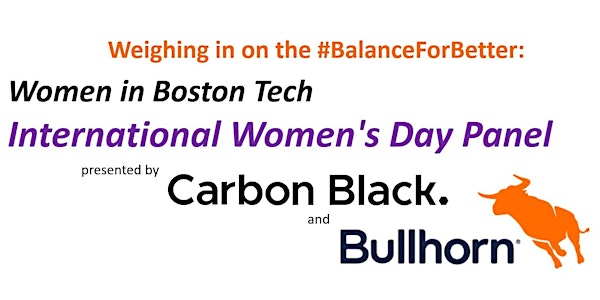 Women in Boston Tech International Women's Day Panel
Weighing in on the #BalanceForBetter: Women in Boston Tech come together for International Women's Day with Bullhorn and Carbon Black
When and where
Location
Bullhorn 100 Summer Street 17th Floor Boston, MA 02110
About this event
In honor of International Women's Day, we at Bullhorn and Carbon Black are working together to celebrate womxn in technology with a womxn-powered panel discussion and networking event!
We are joined by some of our favorite womxn in industry to join us and share their stories and create dialogue. Each of the women on the panel has come from a different background, followed a different path, capitalized on different strengths, and defined success in her own way. And now we invite YOU to meet them in this exclusive setting.
The discussion will be facilitated by Bullhorn's own Shreeda Vyas, Lead Data Engineer, and the panelists include:
The theme of this year's International Women's Day campaign is "Balance for Better." In keeping with that theme, our panelists will discuss the challenges they've faced on their own unique paths to success, how they manage to find personal balance, actions they've taken to empower other womxn (and men) forging their own paths with the goal of encouraging greater gender balance, share ideas on how to re-frame female competition to find balance in supporting one another, and more!
The evening will start off with some networking and light refreshments, then we'll dive in to the good stuff, ending with an opportunity to ask questions.
Our aim is to provide an evening of inspiration, advice, and camaraderie, with each attendee leaving with a few new tools in her (or his!) toolbox and a few new names in her (or his!) Rolodex. Wait… does anyone even use those anymore?
Please join us at Bullhorn's global headquarters in downtown! We can't wait to meet you.