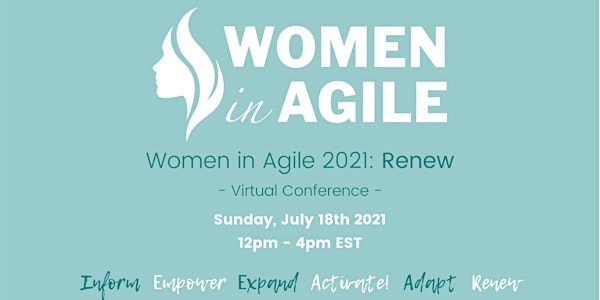 Women in Agile 2021 Online
Women in Agile 2021: Renew
Refund Policy
Refunds up to 7 days before event
Eventbrite's fee is nonrefundable.
About this event
This year has forced us to re-evaluate and put plans on hold. The pandemic and other disasters have had disparate impacts geographically and demographically. Some of us are struggling with loss. Many of us are carrying new burdens. In one way or another, we are forever changed and there's no going back to "normal." Our Women in Agile community is reaching out globally in 2021 to bring us all back together.
Through our first five years we've been inspired and found career and personal growth together, guided by conference themes—Inform, Empower, Expand, Activate!, Adapt.—and now in our sixth year we take time to reflect and Renew.
Our familiar format will be presented live online, and as we have in the past, we'll kick off a week of agile festivities by meeting on the Sunday before the start of Agile2021. People of all genders are welcome and encouraged to attend!
Our online conference format will be three one-hour sessions with half-hour breaks between each one, because your life is happening too. Costume and decor changes between sessions are encouraged!
Session One: Keynote
Women in Agile is thrilled to welcome Piper Kerman for a unique keynote presentation. Piper's bestselling 2010 memoir, Orange is the New Black: My Year in a Women's Prison, chronicles her "crucible experience" and was adapted into the Emmy- and Peabody-winning Netflix original series.
What struck her the most, Piper says, is the power of women's communities: "the incredible ability of women to step up for each other, and to be resilient and to share their resiliency with other people." Since her release, Piper has worked tirelessly to promote the cause of prison and criminal justice reform and the needs of women in the criminal justice system. She speaks about learning from mistakes, the power of women's communities, the need for prison reform and support for people after incarceration, her life and experiences, and the TV series.
Our facilitators will join Piper in a more intimate conversational format, kicking off a half-day of inspiring and revitalizing activities organized around our 2021 theme, "Renew". Now's a perfect time to read or re-read Piper's book and bring your questions for our hosts to share!
Session Two: Workshop
Facilitator Caitlin Walker will guide us to explore our metaphors/models for our past, present and future and consider "What would we like to have happen next?" This can be a time to think about where we'd like to be and what we would like to spend our time and energy on in the next few months or years.
Caitlin will use Clean Questions to uncover our invisible architecture of time—it may be useful to have colored pens/pencils and paper at hand—and we will share our models in small groups.
If you'd like an introduction to Clean Questions and Metaphor Models before the conference, check out Caitlin's TEDx talk!
Session Three: Launching New Voices
Again this year we will close with a series of short talks from Launching New Voices, our mentorship program that helps aspiring new speakers develop their potential by pairing with experienced conference presenters. You won't want to miss these inspiring newcomers!
Women in Agile thanks the Agile Alliance for supporting this event. As we have for the last six years, our conference gets the party started in advance of #Agile2021 - this year, an online global event celebrating 20 years of the Agile Manifesto. Form up with your Women in Agile squad on Sunday and let's take their conference by storm!