Finally we can have an in person event - our first ever! A tour of Xjet's lab and a Wi3DP panel with Xjet's senior women on various careers
About this event
Come meet your fellow ecosystem colleagues - our first in person event! The event will include: networking (and some refreshments), a panel on various career choices in AM, and a tour of Xjet's labs. Those that will register on Eventbrite before June 5th will get a cool personalized 3D printed item during the event.
Xjet is conveniently located right next to the Rehovot train station.
-=-=-
Directions:
Xjet Offices are located at: HaOgen B Building, at the Rehovot Science Park on 4 Oppenheimer St.
By car (parking): The parking is at Arie Shoshan St. RehovotIn Waze: חניון מגדלי עוגן ומטרומולWhen you reach Arie Shoshan st., the entrance of the parking is right after the corner on your right. You can park in floor # -2. Take the elevator located next to row #12 and press floor 1 to reach the lobby of the building. Then you have to walk to the other side of the lobby to take another elevator to floor #8.
By train: Rehovot train station. Once you exit the train station, you cross the road and walk into the MetroMall. Walk towards Roladin / Rose, cross the bridge to enter Haogen building B lobby. Take the elevators on the right to floor #8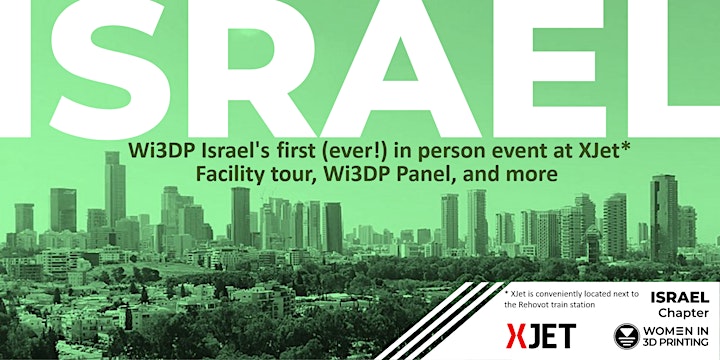 Organizer of Women in 3D Printing - ISRAEL: in person event at Xjet - tour, panel & more
The Israel chapter of Wi3DP is here to support and promote the local community and also connect it with the global organization.
אנחנו כאן לתמוך, לעזור, ולהעשיר זו את זו וזה את זו בכל הנושאים (הרחבים!) הקשורים להדפסת תלת מימד (Additive Manufacturing או 3D Printing). פעילויות כוללות שולחנות עגולים כבמה לדיון והעשרה, ראיונות והרצאות עם נשים מעוררות השראה ועוד. הרשמו לרשימת הדיוור של Wi3DP ישראל כאן שלא תפספסו אף ארוע או הזדמנות.