Women ImpactingWinchester "Authenticity Unleashed"

Friday, November 13, 2015 from 9:00 AM to 2:00 PM (EST)
Event Details
Come and be inspired by women who are moving and shaking their worlds with genuine passion and real impact!
Learn their secrets and discover your own! 
Do not miss our first gathering entitled
"AUTHENTICITY UNLEASHED" 
This will be a powerful opening event 
with several inspiring speakers. 

Our FABULOUS Line Up: 
Tracy Fitzsimmons- President, Shenandoah University,"Women on the Move: Learning for a Better Life"
Keri Ayers-Moms in Motion Inc. CEO,  *Becoming a Professional Entrepreneur "
Kaye Harris- Executive Director of the Laurel Center, "A Woman's True Worth"     

Lori Fountain Bales- Health Coach and Psychotherapist:  "Healthy Passionate LIving"

Crystel Smith: B2B Coach, Crystel Clear Business Strategies, "Your Genuine YES"  

Michele Bouve Hoffman- founder WomenImpactingWinchester, Org. "Authenticity Unleashed.... " 
EACH ATTENDEE will receive: 
* Enjoy a delicious TWO COURSE LUNCHEON catered by Bright Box Catering 
* We will each take a 12 minute VOCATIONAL PERSONALITY TEST on our own devices and then discuss and learn about the 16 different styles that comprise the unique differences between each of us. We will share the findings of this activity together to discover our natural personality strengths/ weaknesses. 
Every woman is welcome...if your not sure if this is for you .... It is ! 
 We can't wait to inspire one another together!! 

IMPORTANT: PLEASE BRING YOUR LAPTOP OR SMART PHONEin order to be able to recieve your results of Vocational PersonalityTest immediately. 
We believe in YOU !
Michele and Crystel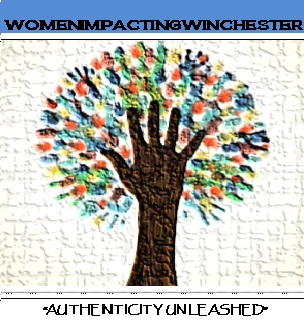 A little bit about WIW
We are a new local organization called WomenImpactingWinchester.
Our mission is to create a life giving atmosphere where women can connect with one another and discover their true passion and natural talent.We believe that UNLOCKING inherent fears and doubts can free each woman to be AUTHENTIC and make her true IMPACT possible. It is our purpose to reveal this truth to every woman that they too can make the difference that they were meant to -- in their day to day lives and the world at large.
Our workshops are passion driven springing forth out of the felt needs of REAL women in our local community. 
When & Where

Bright Box Theatre
15 North Loudoun Street
Winchester, Va 22601
Winchester, VA 22601


Friday, November 13, 2015 from 9:00 AM to 2:00 PM (EST)
Add to my calendar
Organizer
Michele Bouve Hoffman, has been an entrepreneur all of her life. She is a mother to eight children ranging in age from 36-12 and she lives in Winchester, VIrginia with her youngest two children Aidan and Eliza and her husband Eric, They share the house with two Bernese Mountain dogs, Lucy and Sadie, and a wonderful kitty cat named Sox. Back in the 90's, Michele  designed a line of Children's Clothing called:  Mompties"my little ones,"  Her clothing line was sold at the Kids International Fashion Show in NYC to over 200 boutiques across the country from 1993-1999. In 2004,  she opened a one of a kind downtown vintage hip antique shop, The Stock Exchange,  which she recently sold.  In addition to those accomplishments she is an experienced realtor with over 16 years of experinence and is licensed in Viginia and West Virginia. She has 4 Airbnbs in the Winchester ares and enjoys hosting guests from all over the world. Currrently, she is working on publishing her first book, a memoir, The WatercolorYears, that is set to be completed early 2019.
The founding of WomenImpactingWincester.org came out of her desire to IMPACT WOMEN to live AUTHENTIC LIVES and get to know the CREATOR that designed them. Her passion is to help them reach their FULL POTENTIAL and to MAKE A DIFFERENCE in their respective worlds for good.
She credits her genuine love for people and the desire to help them connect with their Creator to her mom, Grace Wallace Banks(1941-2010) her greatest example of genuine faith, hope and love.