Description
Join us for our all-women virtual hackathon focused on finding solutions to the challenges created by COVID-19 for women.
Only 20% of hackathon participants are women, similar in scope to the underrepresentation of women in computer science and other tech fields.
The Expat Woman has been addressing this gender gap by hosting these successful all-women hackathons since 2016. Our talented participants with backgrounds in coding, design, entrepreneurship, business, product etc ranging in age from 15 to 65 have developed innovative websites, games, cloud-based services, and mobile apps to address various challenges.
"What an incredible day. Thanks to The Expat Woman team for all you did to pull it off - it was by far the BEST hackathon I've ever attended. So well-organized, and tons of talented, impressive women to connect with." - Ginny, Software Engineer and participant at one of our previous hackathons.
Our Women Hack the Crisis is open to women across the globe. Work in teams online in the comfort of your home. No coding experience is required to participate in this hackathon. We will have mentors who can assist you with your projects virtually.
COVID-19 has drastically impacted lives globally. The challenges and hardships are too many to list. And even when the lockdown is called off and this pandemic is finally over, it may take months for life to get back to normal. Women have been hit hardest by this crisis.
To help find solutions to challenges faced by women now and post COVID-19, we are hosting our 6th WomenHack and 1st Virtual Hackathon - The All-Women Hackathon on April 30th.
Listed below are some themes that you can work on. You can also come up with your own ideas. We encourage you to come up with solutions that can be easily prototyped and also provide support to women during this crisis or in the aftermath.
HACKATHON CHALLENGES
Hackathon Challenge 1: Find solutions to help nonprofits who are struggling to find funding and meet clients' needs as the coronavirus sickens thousands of people and forces layoffs, business and school closures leading to loss of income, access to healthcare, housing, and resources.
Hackathon Challenge 2: Find solutions to help women in unsafe home environments get access to support and resources.
Hackathon Challenge 3: Find solutions to help small businesses, startups or freelancers stay afloat during the crisis or recover after the crisis is over, find access to funding and new revenue streams, keep and attract new customers, and move parts of their business online.
Hackathon Challenge 4: Find solutions to help immigrant or refugee women who are new to a country get access to resources, supportive networks, and opportunities
Hackathon Challenge 5: Find solutions to help those who are currently unemployed or have lost jobs because of COVID-19, find opportunities to find jobs and work, find resources and support and connect with potential employers and recruiters
Hackathon Challenge 6: Help women who are feeling isolated, lonely, depressed or fearful, find opportunities to connect with other supportive women, find ways to stay positive, healthy and safe, get access to medical and mental health support and feel empowered
Hackathon Challenge 7: Help mothers find solutions to keep their kids entertained, access learning opportunities and tools to homeschool their kids and pregnant women get access to resources and support.
Hackathon Challenge 8 - Help healthcare workers get access to resources they need like masks, gloves etc and find solutions to test, treat and cure patients as wells as keep themselves safe.
Why you should join the Hackathon
- Opportunity to use your coding, design, product expertise or ideas to come up with a solution to a challenge posed by COVID-19
- Network with other professional women and share knowledge and skills
- Learn new skills by participating in a hackathon that you can add to your resume, LinkedIn profile
- Access to online workshops and videos on topics that will help with your hackathon project
- One month free membership to The Expat Woman Club, the leading virtual hub for global women
- Connect online with mentors from diverse industries
AGENDA
April 30th, 5:30pm - 8:30pm PST - Kick off. Introduce mentors. Pitch ideas. Connect with each other.
May 1st Form teams and start work on projects
May 2nd to May 6th Continue to work on your projects
May 7th, 5:30 pm PST Pitch your project with slides to judges
Registration | Your registration fee covers one-month free membership to The Expat Woman Club ( you will receive the link to the membership after you register) and access to our slack channel.
Teams | Teams of 6 - 8 women
Judges | Our judging panel will be made up of industry experts, educators and hackathon pros.
Mentors | Our mentors will support you online with your projects and answer any questions you may have.
Bring | Your laptop, skills & ideas. Come with a collaborative, team-focused mindset and/or team-up in advance on The Expat Woman Club.
What are judges will be looking for
1. Originality: How unique is your idea
2. Technical: Best use of code to create your product
3. Design: Best looking product
4. Business Model: Is there a viable business model attached to the idea
If you have coding/ux-ui/website or app building experience and are interested in volunteering as a mentor, please register here
For sponsorship, prizes or demo table inquiries, please e-mail us at info@theexpatwoman.com
If you are interested in participating as a panelist, speaker or mentor at our future events, please apply here

SPONSORS
Platinum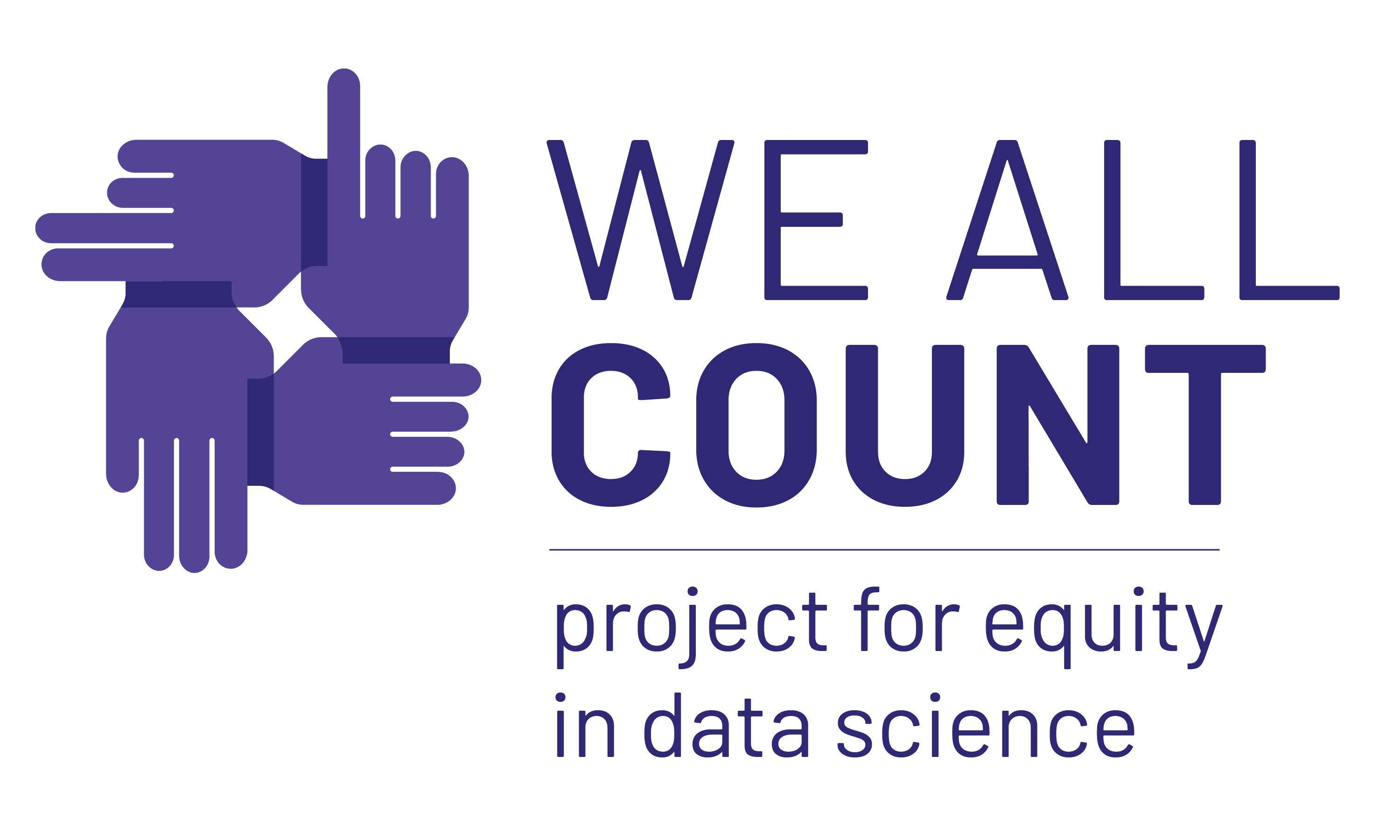 We All Count is a project for equity in data. We All Count challenges the traditional boundaries of data science through a commitment to Demystify, Democratize, and Demonstrate.

Bronze

Balsamiq helps people create software and websites that are easier to use. We do this by providing software tools, teaching UI Design to non-designers, and by building a long-lasting company.
MENTORS
Joanna Chan, Product Designer at Thumbtack
Terms of Participation Agreement
You agree that you are responsible for any accidents or damages that you cause. You also agree to not hold The Expat Woman, or any of the event supporters liable for any loss, damage, injury, or any other unforeseeable incident.
You agree The Expat Woman, is not responsible for circumstances that may necessitate for substitutions or cancellations of speakers.

By Participating at the event, you grant The Expat Woman permission to capture photos/videos of the event.
By registering for this event, you also consent to receive email communication from The Expat Woman and its programs about events and updates that may interest you.
Tickets to this event are non-refundable. If you are unable to attend, you have the option of giving it to a friend or team member to attend in your place.
Date and time
Location
Refund policy
Organizer of Women Hack the Crisis - A Global Virtual All-Women Hackathon
The Expat Woman is a global community of diverse and dynamic women. We are focused on the three Es - Engaging, Educating and Empowering our members worldwide through networking opportunities, online and offline professional and social events and valuable and targeted content and resources.

Our community includes expat women, women who have lived or worked abroad, women who are looking to relocate or women who are interested in being part of an international network of like-minded women.

We bring people together to meet & collaborate through events focusing on business, career and professional development.

We host online and offline events on a diverse range of topics from career, financial and entrepreneurship advice to fashion, professional and personal development and expat tips!

Learn more at theexpatwoman.com