Women GROW: New York City Networking Event

Monthly Event - First Thursday of every month: 6:00 PM to 8:00 PM (EDT)
Event Details
Women Grow Networking Events connect aspiring and current professionals in the cannabis industry. Through our monthly events, our members develop authentic relationships via personal contact and networking. While our events are women focused, our networking series attracts both men and women to connect. Women Grow Networking Events occur the first Thursday of every month.
If you're unavailable for this date, sign up for Women Grow's newsletter to get future invitations.
Spread the word by using hashtag #womengrow when tweeting or posting photos.
EVENT AGENDA
6:00PM Check-in and Open Networking
6:30PM Intorduction of Women Grow with Jazmin Hupp, Co-founder of Women Grow
6:45PM Alyson Martin and Nushin Rashidian, Journalists and Authors of A New Leaf: The End of Cannabis Prohibition will speak and answer your questions about the cannabis legalization movement. A New Leaf is Women Grow's Virtual Book Club Selection. 
7:00PM 30-Second Introductions For All Attendees & Mixer Activity
7:15PM Open Networking
8:00PM Move to After Party Location if You'd Like To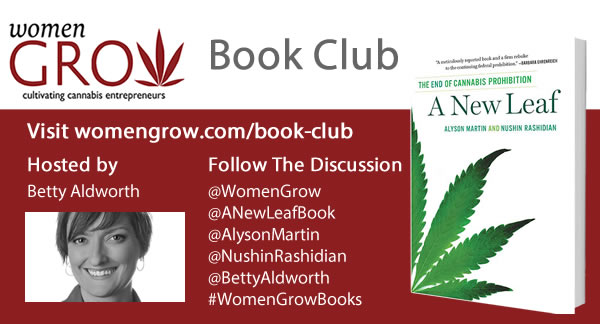 FAQs 
Who attends?
You'll meet women (and men) at all different stages of their career in the cannabis industry. Many will be in the research phase, just learning more about opportunities, while still working day jobs. Some are looking for jobs with existing organizations. Others are starting up their own cannabis venture or ancillary business. Depending on the status of legalization in your state, you'll also meet cannabis business owners & investors who are well on their way. Watch the video below to see for yourself. 
Why should I attend?
Personal connections are the key to professional success. Through the wide variety of events offered to members of Women Grow, trustworthy business relationships sprout from the face-to-face interactions of our members.
Together we have more power.  As the cannabis industry grows on a national and global scale, women have the opportunity to build a new American industry from inception and redefine the workplace to create environments in which we can flourish and define our own destiny, and cultivate the next generation of industry leaders. 
How can I get the most out of networking events?
We recommend bringing business cards and a pen to take notes. If you don't have business cards, check out Moo for 10% off your first order.
Where are there Women Grow events?
Women Grow events are held in small towns and large cities, in prohibition and legalized states alike. No matter where your county is on the road to legalization, you can have a Women Grow chapter. Learn more about starting a Women Grow Chapter. 
Are there ID requirements to attend?
All attendees must be 21 years or older and have a valid ID as many events occur in establishments serving alcohol. 
What are my transportation/parking options?
The MEIER offices are on Broadway between 20th & 21st Street. We recommend taking public transportation to 23rd Street (6/N/R/F/M). Parking is on your own. 
Are tickets refundable or transferrable? 
You may send a friend to attend in your place. Tickets are not refundable. 
Do I have to bring my printed ticket to the event?
No, as long as your ID matches the name your registered under. You may also show us your ticket on your mobile device. If you are giving your ticket to a colleague, please forward them the ticket to show us. 
Are events on different days other than the first Thursday of the month?
Women Grow networking events are on the first Thursday of each month (except for holiday weeks). Social events can be planned at other times. Women Grow's national conference is held each spring in Denver and professional development weekends are held throughout the year. 
Why do you charge for events?
Women Grow is funded by event proceeds and sponsors. We charge for our events so that Women Grow is a self-sustaining organization. If you are unable to afford an event, please contact the organizer to ask about volunteer opportunities. 
Why should I consider a career in the Cannabis Industry?
Where

MEIER
907 Broadway
4th Floor
New York, NY 10010


Monthly Event - First Thursday of every month: 6:00 PM to 8:00 PM (EDT)
Add to my calendar
Organizer
Jazmin Hupp is the Co-founder & Executive Director of Women Grow, which connects, educates, and empowers diverse cannabis industry leaders. Women Grow educates women and men through monthly events in 25+ cities, a national leadership summit, and online resources. Jazmin's goal is to have 1,000 women launch cannabis businesses at the foundation of America's fastest growing industry.
Prior to entering the cannabis industry, Jazmin launched six companies in retail, eCommerce, business services, and media. Her core practice is customer experience design, which combines product design, branding, and business operations. Recently, she served as the Director of Digital Media for Women 2.0, which helps women start high-growth ventures. During her tenure, the brand expanded from the Bay Area to hold events across six countries for over 100,000 women passionate about innovation.
Jazmin's passion for cannabis is inherited from her parents. She's privileged to have been educated to choose cannabis as a safer alternative to alcohol. In combination with yoga & meditation, she consume cannabis to relax her over-achieving multi-tasking mind.
Jazmin believes that business is the strongest force of change in our world, so she works to create responsible cannabis businesses to help us change outdated laws and stereotypes. Jazmin holds a Management Information Systems degree from the State University of New York. She splits her time between New York City, Denver, and Oakland, while visiting every major cannabis market regularly.