Location
5315 Avion Park Dr
5315 Avion Park Drive
Tampa, FL 33607
This event is designed to educate and empower guests to play an active role in shaping the future for girls and sports in our community.
About this event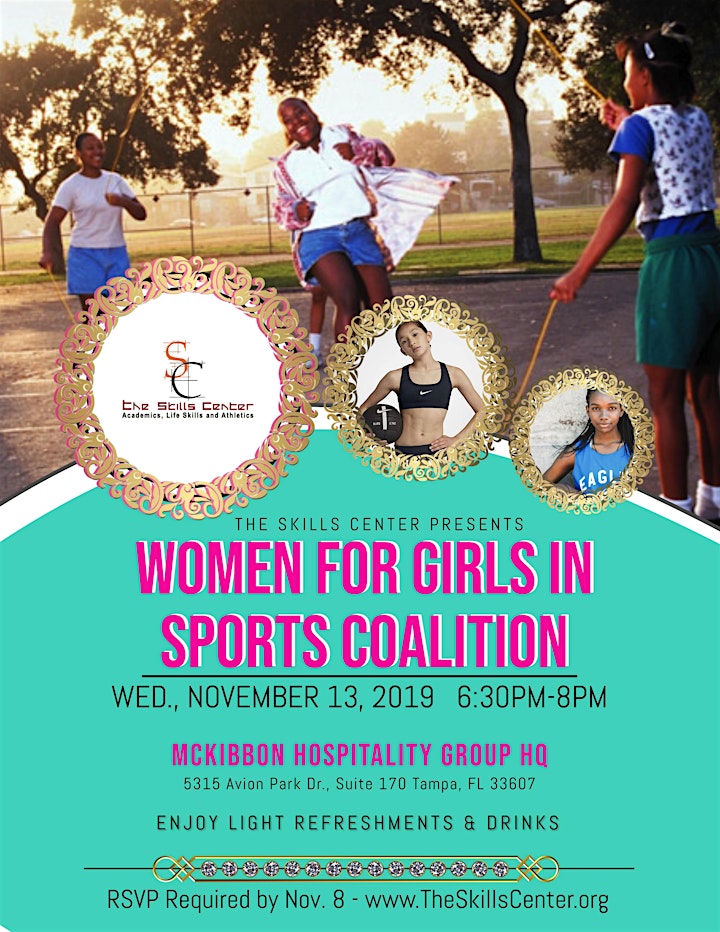 We would like to invite you to learn about the Women For Girls In Sports Coalition. This coalition serves as an advisory committee to the Skills Center's Tampa Youth Engaged in Sports (Y.E.S.) program funded by the Department of Health & Human Services, Office of Women Health.
We are excited to invite you to join us on Wednesday, November 13, 2019, 6:30pm-8:00pm at the McKibbon Hospitality Group headquarters located at 5315 Avion Park Dr., Suite 170 Tampa, FL 33607. Light refreshments and drinks will be served.
To ensure the effectiveness of this private affair, we have intentionally invited women who have shown a dedication to sports, health, education and/or community but most importantly girls.
Our goal is to educate guests on ways to resourcefully and/or financially contribute to The Skills Center's efforts to increase participation in physical activity among 6th grade socio-economically disadvantaged minority girls. This event is also designed to empower you to play an active role in shaping the value of health and sports opportunities for girls.
This is an invite-only affair, please RSVP by November 8, 2019.