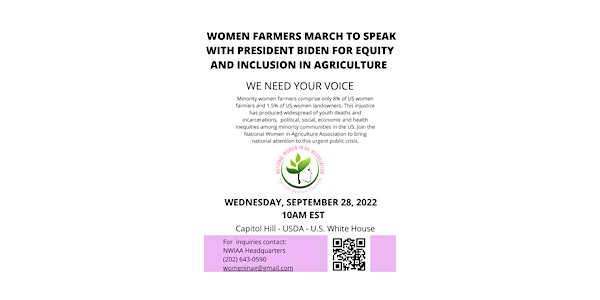 Women Farmers March in Washington, DC
WE NEED YOUR VOICE!!!
When and where
Location
United States Capitol First Street Southeast Washington, D.C., DC 20004
About this event
The National Women in Agriculture Association is hosting the first ever Minority Women Farmers March in Washington D.C designed to fight for EQUITY and INCLUSION in agriculture in the United States. This is the first of its kind and it is a national event. This historic event will take place on the 28th of September of 2022 at 10:00am EST. It will be held in Washington D.C, beginning at Capitol Hill transcending through the USDA and hoping to end at a meeting with President Biden at the White House.
This march will have an emphasis on the urgent public crisis brought by the injustice and inequity faced by minority women farmers which comprise only 8% of US women farmers and1.5% of US women landowners, as this has produced widespread of youth deaths and incarcerations, political, social, economic and health inequities among minority communities in the US. and request a meeting with President Biden to sign an executive order to officially name NWIAA as a charter organization, similar to the 4-H organization so that NWIAA can receive lifetime sustainable funding to grow each of our chartered organizations.
Attendance and sponsorship registrations can be made at www.nwiaa.orgNational Women In Agriculture is also interested in sponsoring women farmers who are interested in attending the march.
For more information, please feel free to contact us womeninag@gmail.com or call 202-643-0590.
Sincerely,
Dr. Tammy Gray Steele Director