Women Entrepreneurs Org May Meeting: Do You Need to Reinvent Yourself?
Description
WEO Meeting May 15, 2019:
The Women Entrepreneurs Organization of SW Washington offers a delightful evening of connection, education, and support for women entrepreneurs and executives. You own your own business, but at WEO you are not alone in your business.
Key Note Speaker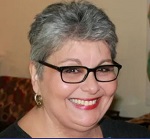 Sue Ann Jaffarian
Critically Acclaimed Author
Topic: Do You Need to Reinvent Yourself?
In today's world, our business is all about us.
Our Passion, Our Mission, Our Tribe!
Are we connecting or missing the mark with those we seek to attract?
So how does a Corporate Paralegal become a popular author with 26 Novels? Sue Ann now travels the US in an RV working on her project, the Novel RV.
Come learn how Sue Ann did all this. See if reinventing yourself may be the key to your success and happiness.
Sponsors:
Meeting Agenda
Networking/Sponsor Tables begin at 5:30 pm
Dinner at 6:00 pm
Table talk covering issues of the day until 7:15 pm
Keynote Speaker from 7:15 - 8:00 pm
Meeting ends at 8:30
Ticket includes buffet, dessert, coffee, tea, tax & tip.
The Women Entrepreneurs Organization of Southwest Washington is an association of women business owners and executives who meet the third Wednesday of each month to share knowledge, to network and to support one another in professional endeavors. Visit www.WEO.rocks for more info.