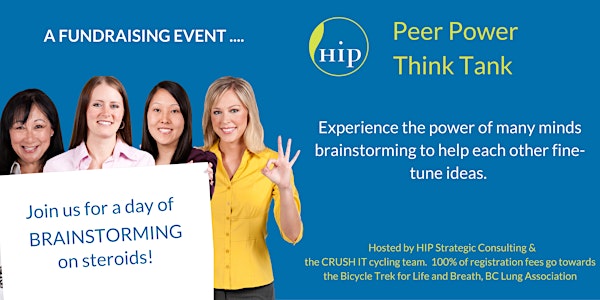 Women Entrepreneur PEER POWER THINK TANK - charity fundraiser!
By HIP Strategic Consulting
When and where
Date and time
Saturday, April 9, 2016 · 9am - 4:30pm PDT
Location
Kingston Business Centre #1- 11491 Kingston St. Maple Ridge, BC Canada
Description
PEER POWERED THINK TANK: BRAINSTORMING ON STERIODS!
PROPEL YOUR BUSINESS FORWARD AND SUPPORT A GOOD CAUSE!
The power of many minds brainstorming to help each other fine-tune ideas.
Imagine the energy in a room, when you bring 20-30 business women together to brainstorm business ideas for each other. The results, inspired action and increased intention. Not to mention new connections and partnerships.
HIP's new Peer Power Think Tank is exactly that! It's an opportunity to bring an idea that you are working on and get feedback from women entrepreneurs across sectors; to explore various perspectives; and to learn from each other; and, to provide this support to the other participants.
Participants will be provided with a pre-work package that will help them fine tune thier "ask" around their idea so that they can maximize the input they receive throughout the day.
Join us to experience the energy and synergy that comes from this under-utilized business development technique.
Date & Time: April 9th, 2016, 9 AM – 4:30 PM
Cost: $50 donation to BC Lung Association's "Bicycle Trek for Life and Breath" (supporting team CRUSH IT!) - you will be issued a charitable tax receipt!
Location: Kingston Business Centre, #1- 11491 Kingston St., Maple Ridge, BC
Lunch: Please bring a brown bag lunch, snacks & beverages to keep you going. Coffee, tea and water will be provided.
How to register:
1) Click "register" here then
2) Log onto CRUSH IT team site for the Bicycle Trek and make your minimum $50 donation (a full day entrepreurial workshop for just $50? It's a steal of a deal! :-)). Tax receipt will be sent to you from BC Lung Association via email.
3) Send us an email to pkleine@shaw.ca saying you've made your donation. Your registration is complete!
We will follow up and confirm your registration for this exciting Peer Power Think Tank event and to provide you with some pre-work to be completed prior to April 9th.
Hosted by HIP Strategic Consulting and the Crush IT cycling team, this inaugural Peer Power Think Tank is a fundraising event for the Bicycle Trek for Life and Breath a 2-day, 200 km bicycle ride from White Rock to Cultus Lake and back. The Bicycle Trek for Life and Breath is BC's largest event to raise awareness and funds for lung disease and research for the BC Lung Association.
*100% of your donation supports the CRUSH IT team's fundraising efforts for the Bicycle Trek for Life and Breath. A minimum donation of $50 gets you in the door for an exciting day of brainstorming. Want to donate more? We'd love that!
Thank you for your support.
______
FREQUENTLY ASKED QUESTIONS:
QUESTION: What is a Peer Power Think Tank?
A think tank is a brainstorming process to help look at an idea from a variety of angles, thought processes, and experiential lenses. It brings a group of people - often from very different walks-of-life, and with a variety of life experiences - together to explore and examine how an idea can be shaped and what problems might be encountered. Brainstorming allows for ideas to be developed in depth in a short period of time.
QUESTION: How will the "Think Tank" be structured?
The day will comprise of a blend of large and small group activities; however the majority of time will be spent in 2 small 4-person brainstorming groups (participants will differ in each go around).
Each group of 4 will have 1.75 hour to listen to and brainstorm each other's ideas (5 minutes to present idea / ask and 20 minutes to brainstorm; then next person, and so on). This will be done 4 times within each group; once for each participant.
Throughout the day their will be opportunities for networking and one on one brainstorming / feedback on your idea as well during breaks, group feedback sessions, and wrap up activities.
QUESTION: I'm scared to present my idea to the group. What if they aren't supportive?
Group guidelines, confidentiality agreements, and brainstorming best practices will be established and agreed upon before we dig into the actual work of the day. These will establish a variety of means by which you can frame your positive comments and ask questions those critical questions that probe into ideas and build a stronger foundation for growth.
Still have questions? Contact the Lead Facilitator, Angie McLeod at angie@hipstrategic.com or call 604 476 2447. Looking forward to brainstorming with you!
About the organizer
At HIP Strategic Consulting, we know that you are the EXPERT in your business. We also know that group conversations are an under-utilized business tool and that a well-facilitated conversation can help you clarify next steps, establish an action plan, and jumpstart your momentum! 
We also know that sometimes another perspective can help you see the problem from a different angle or provide the missing piece of the skills puzzle and that helps you get moving.   Join us at one of our upcoming events or workshops to experience the power of shared peer discussion.  You won't be disappointed.  
To learn more, contact Angie McLeod, HIP Strategic Consulting via the HIP contact page or call 604.476.2447.