Description
Are you a young woman looking for inspiration and guidance to become an entrepreneur?
Or you are already an entrepreneur, working from home, doing small and medium businesses, gaining clients, and need some motivation?
Come and join our one-day event with superstar entrepreneurs who will share their stories in talk-show style conference mixed with high impact talks. A nice, chill and totally worthwhile event that you do not want to miss.
*****
Our confirmed speakers are:
"How I built and sustained a company while working full-time" with Dr. Nur Aisyah Zainordin (or more well known as 'Muharikah'), doctor, writer, Muslimah icon and founder of Iman Shoppe and Iman Publications, an award-winning publisher and bookstore.
"Mom, wife, daughter, and CEO: Growing your business with numerous hats to wear" with Ms. Nur Ilanah Abdullah, founder, and owner of Uswah Islamic Clothing, an established specialist in Muslimah clothing with almost 300K followers on Facebook and Instagram combined.
"Systems and tips to help your company grow" by Ms. Jasmiza Yantee Jamalluddin, international HR and systems consultant and founder of JSSB Consulting.
"Young and Feminine: Experiences as a 20+ young woman CEO" with Ms. Fatin Syamimy, CEO of Iman Shoppe and Iman Publications, the young woman behind the explosive growth of the company.
"Going for Your Passion" by Ms. Maria Marzuki, coach and business owner.
"Finding my Passion" by Ms. Ira Abdullah, co-founder, and COO of D'YANA International Sdn. Bhd.
"From Entrepreneur to Baking Queen" by Ms. Nurulhuda Qamaruz Zaman, Founder of Brown Butter Bakes and the famous kek coklat Sumpah Sedap.
"Internal Motivation to Succeed" by Ms. Wan Fatin Suryanie, International Islamic speaker,
and a bonus special appearance from Malaysia's Forbes 30 under 30 Asia 2018 winner, Ammar Roslizar, who will share some special business tips with the audience.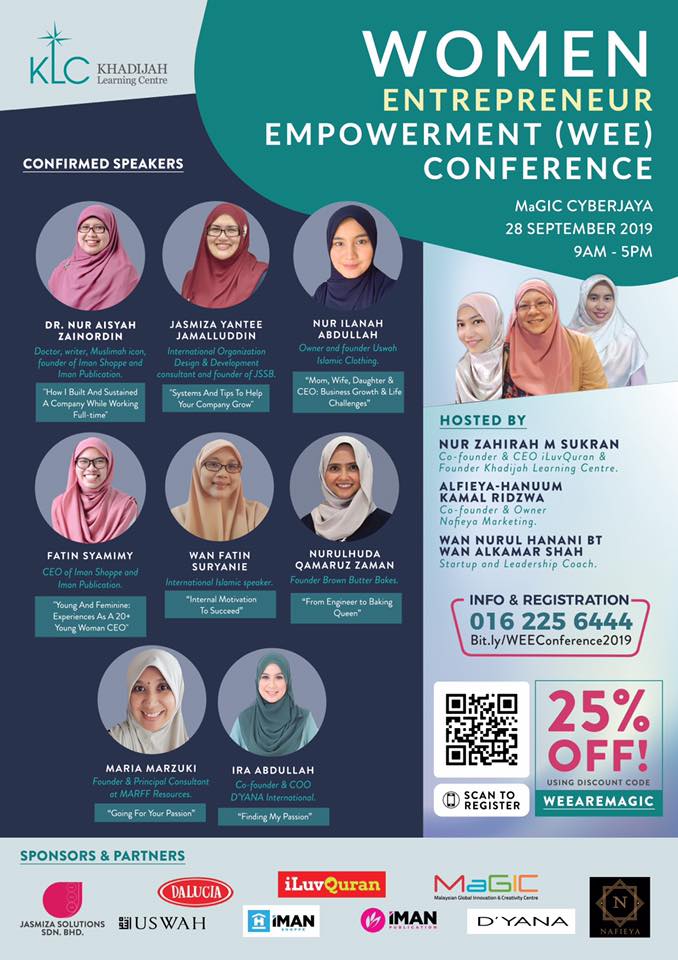 Your hosts will be:
Ms. Nur Zahirah M Sukran, Co-founder and CEO of iLuvQuran, as well as Director and co-founder of Khadijah Learning Centre, and
Ms. Alfieya Hanuum Kamal Ridzwa, Co-founder and Owner of Nafieya Marketing and Orimura Health Shops.
Ms. Wan Nurulhanani Wan Alkamar Shah, currently a program manager at MaGIC for the Global Accelerator Program and start-up coach.
Register for your seat now as the early bird price is only valid until Merdeka Day, 31 August 2019!