Event Information
Location
FIGO Pasta
627 East College Avenue
Decatur, GA 30030
Description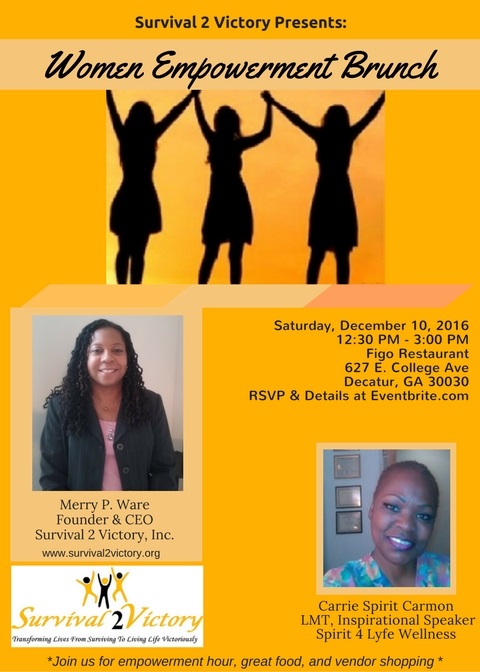 Come and join us for a wonderful Brunch where we will unite in sisterhood and be encouraged, inspired and empowered.
Survival 2 Victory, Inc. is a nonprofit Christian organization that educates, empowers, and celebrates female survivors of sexual assault, childhood sexual abuse, emotional abuse, and physical abuse. They work to prevent and end sexual violence against women through awareness, education, and advocacy.
You don't want to miss out on an amazing, uplifting, empowering, and motivational event that will leave you enlightened and healed from the inside out!!
ALL TICKETS MUST BE PURCHASED IN ADVANCE
Delicious Brunch menu (Only $25 * Proceeds will go to Survival 2 Victory)
Candid Discussions
Empowerment Stories
Panel discussion
Heartfelt Healing Messages
Date and Time
Location
FIGO Pasta
627 East College Avenue
Decatur, GA 30030