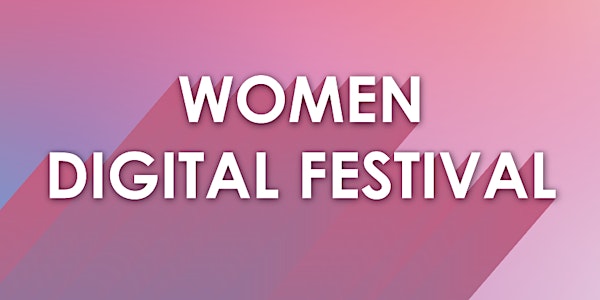 Women Digital Festival 2020
Welcome to the Women Digital Festival 6th & 7th December 2020 2:00pm - 8:00pm (KSA)
Refund Policy
Contact the organizer to request a refund.
About this event
Are you ready to PIVOT?
The Women Digital Festival will launch to inspire individuals and shed light on some of the most important topics that will stir creativity and innovation giving the right platform for individuals anywhere around the world to be part of this conversation and engage in something that will help them start businesses and lead in their field. The summit will focus on forging digital conversations with inspiring leaders, authors, business women, artists and freelancers to uplift the local, regional and global communities to PIVOT through this virtual event. The event will highlight virtual speaker sessions, "Pivot" Hour, Distance Networking, Women Power Digital Pitch and The disrupted Classroom.
What you can expect from the event:
2 day learning event
30+ learning sessions
Panel discussions
Access to roundtable discussions
Interactive workshops
Lead generation opportunities
Network with some of your favorite speakers on the day of the event
Goodie bag items from 30+ global brands
Browse companies and brands from all over the world and get access to their latest offers through the virtual expo
We're bringing back your favourite sessions and features on a larger scale!
This year you can look forward to:
Global speakers
Multiple speaking sessions
Networking sessions
Virtual Expo
Goody Bags
And much more!
Featured Speakers:
Alya Mooro - Freelance Journalist and Author
Ayesha Erkin - Architectural Designer & Co-Founder of Brown Girls Food Club
Basma Khalifa - Director, Filmmaker, Writer and Fashion Stylist
Danya Al Hamrani - Filmmaker/CCO Eggdancer Productions
Dr. Layla Faisal Alhalwachi - Professor of gender and Management
Dr. Samar M. Baqer - Marketing Strategist & High Performance Coach
Deena Al Ansari - MD of The BeautyCo & Al-Ansari Lights
Dina-Elhifnawi - CEO & Founder of Carousel
Farah Bishara - DJ, Event Curator and Small Business Owner
Faye Sultan - Olympian & Entrepreneur
Hadley Gamble - CNBC Anchor
Hebah Fisher - CEO, Cofounder of Kerning Cultures
Huda Foudah - Passionate Entrepreneur, Founder of Salam Charm Jewellery & Hawiya Digital e-growth studio
Israa Allaf - Marketing Specialist, Graphic & Fashion Design
Jehan Al Khateeb - Center for Genomics & Systems Biology Outreach Coordinator - New York University Abu Dhabi
Joy Ajlouny - Entrepreneur & Founder
Jumanah Shaheen - VFX & Animation Producer
Kholoud Attar - Publisher, Entrepreneur & CEO of KAAPH media, Design Network and Attar Software
Leena Alsulaiman - Founder of Leena Alsulaiman Creative Consultancy
Lujain Abulfaraj - Co-founder of Twothirds & Founder of Akwan
Marriam Mossali - Founder of Niche Arabia
May AbdelAsim - Managing Director of Media & More
Medea Nocentini - Chief Operating Officer at Global Ventures
Muwadah Muhtasib - Visual Artist
Nadine Kanso - Creative Director of Bil Arabi
Noor Marzoky - CEO & Founder of Workshop X
Nouf Hakeem - Speaker & Multi-passion Entrepreneur
Raha Moharrak - Athlete & Adventurer
Rana Husseini -Author, Senior Reporter & Women's Activist
Rayyan Umrani -Published Author, Marketing Expert and Model
Rosemin Madhavji - Founder of RR&Co. Bespoke Luxury Management, Media Personality and Presenter
Rudayna Abdo - Founder of Thaki
Sacha Haider - Principal at Global Ventures
Shaikha Al Khaldi - Comedienne
Srishti Sofat - Group Vice President, Product Development, Oracle CX Marketing
Waleed Hasim - Spiritual Teacher & Energy Master
Mariam Farag - Media, Social Impact and Humanizing Brands Strategist
Razan Al Shehabi - Founder of Sprouting Journey
Lujain Abul Faraj - Creative Director
Maysa Hamdan - Founder of "ican" Coaching & Healing Space, Psychologist &
Self Development Specialist.
Reema Juffali - Saudi Arabian Racing Driver
Muneera Al Mulla - Creative Director and Co-Founder of Maya Eco.
Sandra Mansour - Fashion Designer & Creative Director.
Maisa J Shunnar - Chief Digital Transformation.
Rozana Al Banawi - Human Relations Facilitator.
Noor Al Obaid - Food and beverage consultant.
Dr. Alia Komsany - Public health and cancer research.
Lara Khoury - Public health and cancer research.
HE Manal Ataya - Director General of Sharjah Museums Authority
Justina Kasparaviciene - Co-founder and Director of WHUB, Lithuania.
Patricija Miklušienė - Co-founder of WHUB, Lithuania.
Tamara Abukhadra - Owner of Homegrown Market.
Yasmeen Mjalli - creative director of Nöl Collective.
Haya Al Ghanim - Filmmaker and Founder of New Arab Cinema.
Nada Hakeem - "Designer, Photographer and Co-Founder and Managing Director of The Loft".
Fatima Al Banawi - Writer, Actor and Filmmaker
Amal Al Harbi - "Public relations expert possessing excellent project management".
Claudia Mortimer - COO of step.
Ruba Sidani - Clinical hypnotherapist | Design & Style.
Yalda Aoukar - Managing Partner and Co-Founder of Bracket Capital.
Noora Al Askar - US licensed nutritionist and health tech entrepreneur | CEO & Founder of NutriBox.
Hejer Krichene - Customer Success Manager and Cloud Specialist.
Hala Al Khaldi - Clinical Dietician and owner of Diet Delight.
Rana Saab - Certified Image Consultant and Celebrity Stylist.
Fedaa Al Hassan - Co-Founder and CTO of Khadoum.
Narjes Bukannan - Owner of Higher Grounds | Food & Sustainability.
Maria Sarfaraz - Award winning HR professional & first GCC national as a face yoga therapist.
Agnes Budzyn - Operator, investor and entrepreneur.
Nerissa Naidu - CEO and Founder of Axil
Featured Topics:
In Your Face: Stories About Trauma
Mastering The Art of Humanization
How to Transform the Representation of Women on Boards
How to Beat the Odds and Win
Transforming an Empowered Nation of Thinkers and Doers
Comfortably Me!
The Future of Women in VFX and Animation
The End Of A Marketing Era
Show Up Anyway!
Freestyling into Olympic History
Girls Who Code
The Glorious Mystery of Creativity
The Rise and Rise of Podcasting
Are We Socially Responsible?
The Business Of Success
Creating Wealth & Abundance
When Crisis Hits: You Respond
Digitizing Arts and Culture: Adapting to a Pandemic
Shaping a New Era of Film-making
Been There, Met That
How To Seek Career With Purpose
Living Fearlessly
A Healthier Happier You!
Economic Resilience and the Rise of a Digital Financial Economy
Design is the Solution
Embracing the New Normal
Let's Work This Pandemic Out
Making Money Moves: Unlock the Secrets of VC Funding
Harnessing the Power of Innovative Women in Fintech
The Road to Self Recovery
Heading into the Barracks with your Team
Getting Behind the Steering Wheel of your Financial and Personal Success
Debunking Stereotypes and the Limits to Growth
Who Runs the Future?
Shut Up & Drive
The Life Of A Mompreneur In A Pandemic
What is a Virtual Expo?
The Virtual Expo area is a virtual exhibition where you will find all your favourite vendors and brands!
Features of the virtual booth:
Browse companys and brands from all over the world
Speak to a representative on live chat
Speak to a representative on video chat
Direct link to company's social media and website
Access to exclusive offers and deals
View demo videos
View live demo
Follow us on social media for updates!
Instagram: @womenpowersummit
Facebook: Women Digital Festival
LinkedIn: Women Digital Festival
Twitter: @womendigifest
Website: https://womenpower-summit.com