When women come together, movements are born, positive change happens, businesses are formed and commerce is created.
About this event
Wednesday, July 28th features two women who have focused on medical marijuana patients' health and well being. Ziva Criswell and Melissa Cornwell will be speaking on A return to Our Roots- Food IS Medicine. They will be answering your questions and opening a discussion of today's widespread health crises of inflammatory- based conditions and how we can reverse it through diet & lifestyle changes, cannabis, herbs, nutraceuticals and education.
Wendy Love Edge is the host and Ambassador for the Women's Cannabis Chamber of Commerce. She is a disabled survivor of US Healthcare, an author, artist, talk show host and cannabis activist. She is from Boston originally, and has now made Northwest Arkansas her home.
Ms. Love Edge is known for being the founder of Bulldozer Health Inc., a 501c3 nonprofit organization and health care reform initiative. This organization educated thousands of people about health, wellness and cannabis through many media platforms, events and public speaking.
Ms. Love Edge was selected to be an artist member of The Cannabis Art Guild worldwide at cannabis events and exhibits starting in 2019.
"The Wendy Love Edge Show" is where music, art, plant medicine, health and wellness meet. In season 5, Ms Love Edge added women's empowerment officially to the platform. The show naturally creates community by showing the connection between these things. It is created and written by Wendy Love Edge and produced by her wife's company, A. Edge Productions. It airs in 3 states on several radio stations, on TV, on video formats like cannatube24 and YouTube, and on all major podcasting formats.
Nominations and Awards:
The Black Apple Awards 2018 Nomination Best TV Show: The Green Zone TV
The Black Apple Awards 2019 Nomination Best Radio And TV Show: The Wendy Love Edge Show with Topher Kogen
The Cannabis Awards 2021 Nomination Best Radio Show and Podcast
The Cannabis Awards 2021 Patient Choice Award Recipient, Wendy Love Edge
Zivah Criswell is a Cannabis Health & Wellness Coach and founder of LeafLove Wellness.
She has been trained in the medicinal, emotional, and physical benefits of cannabis, which includes medical marijuana and hemp (CBD) products.
A Cannabis Coach is trained to empower you to reach the goals you set for yourself and your life in 30, 60 or 90 days. As a certified Cannabis Coach, I do more than educate and empower you, I also hold your vision for wellness and provide support, accountability and concrete action steps that break your big outcomes into healthy habits that are not only sustainable, but result in long lasting change. I help women who are dealing with stress, anxiety, hormonal challenges, and chronic conditions learn about using cannabis and other wellness practices to find relief and live their best lives. Ziva Criswell, LeafLove Wellness
Zivah Criswell has been a lifelong seeker on a journey back home to herself. She has made the study of self love her life purpose, learning to love herself to wholeness and empowering women to love themselves while being guided on their own path to healing.
​Zivah began with a psychology degree, and then spent the next two decades pursuing a variety of studies including counseling certifications, hypnotherapy, dance based movement practices, organic foods & natural health supplements, and most recently, a Cannabis Coach certification. Zivah is on a mission to help women find the answers to their most pressing questions about health, happiness, and love through movement, nutritional supplements, cannabis education and community.
Melissa Cornwell is the founder of DarkHorse Delta Enterprises and creator of the cannabis education system called The Cannabis Calculators. The family-owned company was formed to help spread factual, patient-centric cannabis education. The educational devices help guide patients into making more health appropriate and economical cannabis choices, thereby helping to stop the confusion, expense, and amount of time spent on learning to use cannabis medication.
Melissa is a medically retired, experienced nurse whose passion for helping and educating others continues in a different fashion. Her credentials include a holistic cannabis consultant certification received under dual training with the Society of Cannabis Clinicians (SCC) Medical Training Clinical Curriculum and the Healer Program with cannabis expert and SCC member, Dr. Dustin Sulak.
This is a networking event. Each of you brings a wealth of knowledge and resources. Bring your business cards! A table is provided for guests to display their cards.
Networking 6:00-6:30 & 7:15-8:30. No Q&A. We encourage you to introduce yourself to the speakers during networking and ask your questions.
Networking is building business relationships - not collecting cards.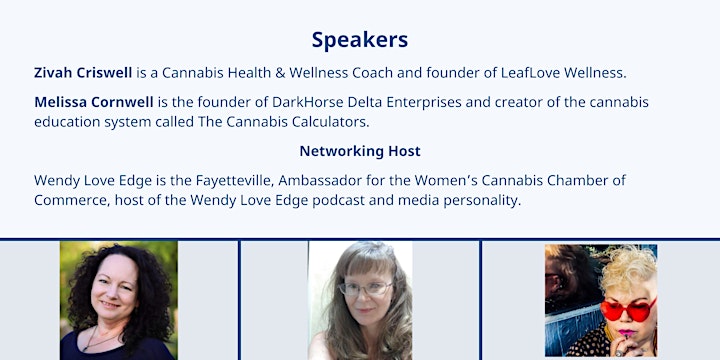 Organizer of Women Cultivating Success Networking Fayetteville Arkansas
Addison Morris became involved in the feminist movement in 1966. The values and goals of the feminist movement are reflected in the Women's Cannabis Chamber of Commerce.
Addison describes herself as a serial entrepreneur, starting her first business 1969. She became active in her local chamber of commerce and business organizations in 1970. With the emergence of facebook Addison launched Panache Press a social media marketing company that focused on women owned small businesses. This became Sweet Jane Marketing with a focus on cannabis companies.

In 2011 she started the Cannabis Chamber of Commerce to address the business obstacles cannabis related businesses were encountering. A monthly breakfast for women working in the cannabis business inspired Addison to transition into the Women's Cannabis Chamber of Commerce on January 1st, 2016.
The Women's Cannabis Chamber of Commerce mission is to move entrepreneurs' beyond empowerment into powerful result driven career strategies, CEO positions and business ownership through education, resources and opportunities, and to build long term business relationships.

The Women's Cannabis Chamber of Commerce sponsors monthly Women Cultivating Success Networking evenings throughout the United States.
The goal of the Women Cultivating Success networking evenings is to bring women together to create a strong cannabis community. When women come together social change happens, businesses are created and supported and revolutions become evolution.
Our most powerful resources are education and other women. Our most valuable resource is ourselves.

The Women's Cannabis Chamber of Commerce offers courses and workshops to secure success in dispensary management, cultivation management, nonprofit management and the emerging psychedelics marketplace. Each course and workshop is limited to 14 attendees, and are intense, no bullshit - no fluff. Breaks and lunch are catered in and course instructors provide follow-up consultations. We are serious about your success!