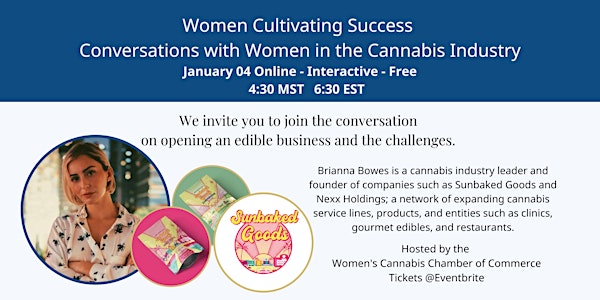 Women Cultivating Success Conversations with Women in the Cannabis Industry
Join us to open up conversations and connections to help navigate the cannabis industry.
About this event
Brianna Bowes is a cannabis industry leader and founder of companies such as Sunbaked Goods and Nexx Holdings; a network of expanding cannabis service lines, products, and entities such as clinics, gourmet edibles, and restaurants. She has a vision for the U.S. cannabis industry that protects it from turning into Big Pharma. Instead, her goal is for the cannabis industry to focus on research, conscious development, and helping people learn how to use cannabis for health benefits, whether medical, recreational, or aesthetic. Seen as a trailblazer for young minority women, Brianna places emphasis on education and establishing industry standards for the benefit of the consumer and industry alike.
The cannabis industry is the largest startup! It moves quickly, always evolving and regulations can quickly change. There is no playbook and no safety net.
Women Cultivating Success Conversations connects women across the country with women in the cannabis industry. Guest facilitators open the conversation by sharing their insights and expertise. Each participants is encouraged to join on screen and unmuted to add to the conversations
Women's Cannabis Chamber of Commerce mission is to move entrepreneurs' beyond empowerment into powerful result driven career strategies, CEO positions and business ownership; to provide education, resources, and networking opportunities.
The Women's Cannabis Chamber of Commerce focuses on building business and professional success within the Cannabis Industry through executive level courses, executive dinners and events.
Visit our website to learn about what membership in the Women's Cannabis Chamber Commerce offers entrepreneurs and executives. We are Invested in Your Success!
One woman can change the world. Together we can Rock the World!