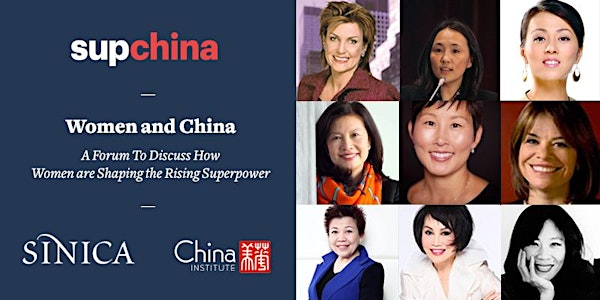 Women & China, A Forum on How Women are Shaping the Rising Global Power
When and where
Location
China Institute, NY 100 Washington Street New York
Description


"Women and China, A Forum to Discuss How Women are Shaping the Rising Global Power", will take place on May 18, 2017, Thursday from noon to 6:30pm at The China Institute in New York City. The conference includes four forums on technology, business, culture, and the role of top female CEOs and business leaders.
Our speakers from both the US and China are all women: outstanding business leaders from Fortune 500 companies as well as rising startups, and luminaries who have a unique take on significant trends in commerce, culture, and society.
Why Attend?
SupChina's aim is to inform and inspire you, and give you an extraordinary opportunity to network with women at the top of their fields:
Gain unrivaled access to industry-leading women in the China space.
Network with speakers and attendees from China and North America.
Find out about the latest political, cultural, and social developments in the country you can't afford to ignore.
Explore how Fortune 500 firms, top Chinese firms, and startups view their future growth.
Discuss the rise of China as it affects your firm and personal growth.
Discover how these speakers and firms are positioned to take advantage of China's rise.
Learn how these speakers overcame challenges and employed strategies to success.
Boxed Lunch, Snack/Drinks and Cocktails provided

PRICING

SCHEDULE