Location
Trinity Lane Build Site (formerly Cemetery Road)
Cemetery Road
Santa Paula, CA 93060
Description
COME BUILD WITH US ON
SATURDAY, MAY 9TH
Habitat for Humanity of Ventura County invites women from all walks of life to participate in our local Women Build 2015.
Please join us from 8:00am - 2:30pm at our Trinity Lane Development in Santa Paula.
Volunteers must be 16 or older to participate. No experience is necessary. All construction materials, equipment, and instruction will be provided by Habitat for Humanity of Ventura County.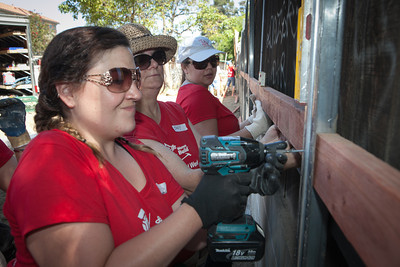 ARRIVE promptly at 8:00 am!

TIPS FOR ARRIVING PREPARED
Eat a healthy breakfast.
Bring sunscreen and wear closed toe shoes.
Hats and sunglasses are also recommended.
Bring cash for a very special opportunity drawing!
Be ready to get dirty!
EXPECT to learn new things, meet new people, and have a great day building and bonding with women who support the Habitat for Humanity of Ventura County mission.
HABITAT WILL PROVIDE lunch, water, and t-shirts!
If you have special diet requirements, please bring your own lunch.
---

INVITE YOUR FRIENDS.
This is a wonderful opportunity to give back to your community, learn a bit of construction, and have a great time working beside like-minded women.
Women Build is a much anticipated and well attended event.
Purchase your ticket SOON. Space is limited.
---
P.S. Guys are invited too, but 50% of attendees must be women!
Sponsored by: